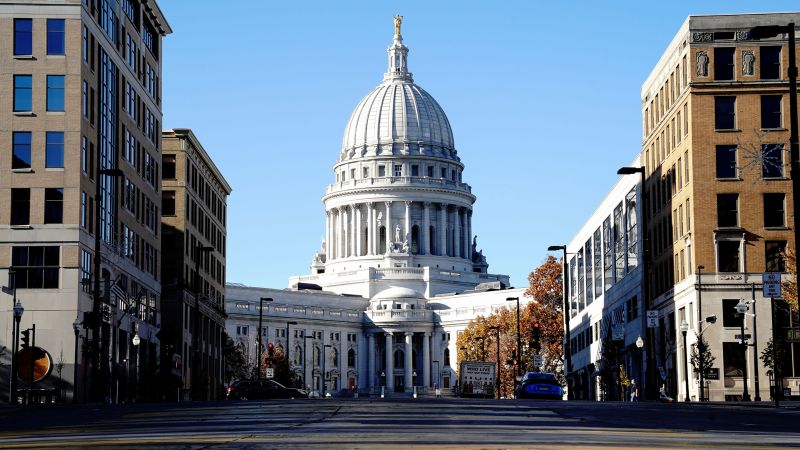 A man who is accused of bringing guns to the Wisconsin Capitol grounds twice in one day earlier this month has been charged with a misdemeanor count of carrying a firearm in a public building, records show.
Joshua Pleasnick, 43, was arrested the afternoon of October 4 after he entered the state Capitol building openly carrying a handgun and requesting to speak with Gov. Tony Evers, according to a charging document filed Monday. After posting bail, he returned that night with an AK-47-style rifle and was detained, the Wisconsin Department of Administration said at the time.
Pleasnick is facing the misdemeanor charge in connection with his first arrest, the charging document states. He is expected to appear in court on Thursday, jail records show.
CNN has sought comment from the Wisconsin Department of Administration and the Dane County District Attorney's Office.
When he first entered the Capitol building around 2 p.m., Pleasnick was shirtless and had a small dog on a leash as he walked past the check point gate and attempted to go to the governor's office and speak with Evers, the document says. A State Capitol Police officer stopped Pleasnick and asked him to step behind the gate and fill out a form to meet the governor, the document says.
Pleasnick was openly carrying a holstered handgun, the complaint says. "At no time did he attempt to brandish the firearm," it notes.
When officers informed Pleasnick he was not allowed to open carry inside the Capitol, Pleasnick replied "he would not comply with that rule," the complaint says. Pleasnick was then arrested.
In an interview with police, Pleasnick said he was not aware that open carry is banned in the Capitol, according to the complaint.
"I didn't know I wasn't supposed to take a firearm into the Capitol, for that I am guilty," Pleasnick told the officer, according to the document.
Pleasnick told the officer he wanted to speak to the governor about his concern that men who have been abused by women are not taken seriously by police or the justice system – something he had personally experienced, the document says. Pleasnick said he carried the gun for self-protection because he feared his ex-girlfriend may try to harm him, it says.
The complaint does not detail the second incident during which Pleasnick was taken into custody.
After he posted bail, Pleasnick returned to Capitol grounds around 9 p.m. – after the building had closed to the public – armed with a loaded AK-47-style rifle and repeating his request to see the governor, the state administration department said. Police also found a collapsible police-style baton in his backpack, which is illegal to carry concealed without a permit, the department said.
Officers then took Pleasnick into "protective custody" for a psychiatric evaluation after he made a "concerning statement," the administration department said.
CNN has sought further comment from Pleasnick, who said he has not yet obtained an attorney.
Speaking to reporters earlier this month, Evers said he was OK, adding that while he doesn't comment on his security detail, incidents like this always prompt reevaluations of security policies.
"The Capitol police took control of the situation and so it's over, but it's always something that … you don't want to see happen, but that's why we have good people in the police departments and the Capitol Police and the state patrol, they're doing their great work," the governor said.
CNN's Joe Sutton and Christina Maxouris contributed to this report.