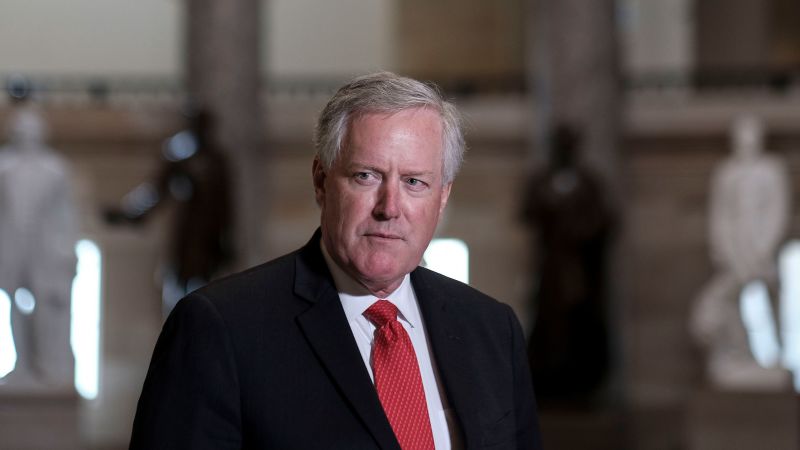 Former Trump White House chief of staff Mark Meadows' effort to avoid a state court prosecution in the Fulton County 2020 election subversion case hits a key inflection point this week, with two federal courts poised to act quickly on his latest appeals.
Meadows was dealt a significant court loss Friday when US District Judge Steve Jones rejected his bid to move the Fulton County charges to federal court, where Meadows claims he is entitled to certain immunity because the prosecution targets activities he says he carried out as a White House adviser to former President Donald Trump.
Meadows has launched a two-pronged effort to get the Friday ruling paused, while he formally appeals the decision to the 11th US Circuit Court of Appeals, a conservative-leaning appeals court.
He argues that he could be irreparably harmed if the ruling is not put on hold while the appeal plays out, because he could potentially be tried and convicted in state court, and possibly incarcerated, before his federal appeal is resolved.
Meadows has asked Jones, an Obama appointee, to put the Friday ruling on hold while it is appealed. Fulton County prosecutors filed their response on Tuesday, calling Meadows' arguments "speculative."
Jones could at any time rule on whether the state court proceedings can continue during the appeal.
Meadows also filed a similar emergency request with the 11th Circuit. The appeals court on Tuesday ordered a quick briefing schedule that would wrap up by Wednesday afternoon.
The 11th Circuit set a noon ET Wednesday deadline for Fulton County District Attorney Fani Willis to respond to Meadows' request for an emergency hold.
The appeals court also set a 5 p.m. ET Wednesday deadline for both parties to weigh in with additional briefs on a specific legal question: whether the relevant US statute applies to just current federal officials or does it allow former federal officials to move the state cases against them to federal court as well.
Meadows has pleaded not guilty to the Fulton County charges.