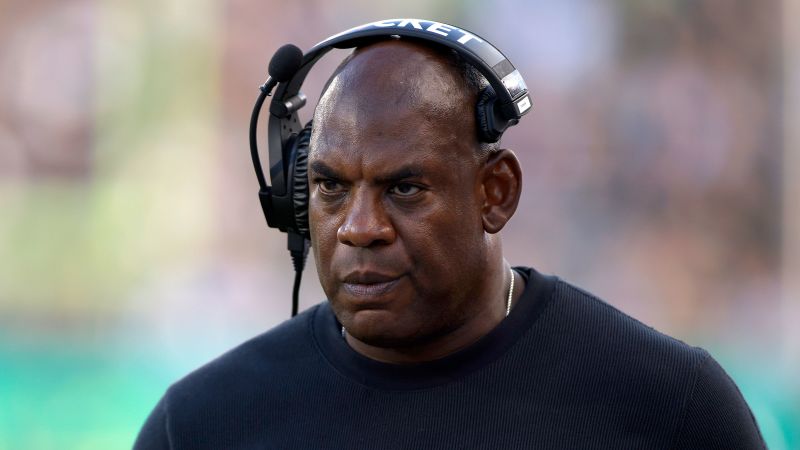 Michigan State University announced Sunday it has suspended head football coach Mel Tucker without pay, less than a day after USA Today reported he has been under investigation about alleged sexual harassment.
Vice president and director of athletics Alan Haller said at a news conference Tucker is the subject of an ongoing investigation that began in December. An investigative report was submitted in July and a formal hearing will take place the week of October 5, Haller said.
According to the USA Today report, published Saturday night, Tucker is alleged to have made sexual comments and masturbated while on a phone call with Brenda Tracy, an advocate and rape survivor.
Tracy reported the call to the university's Title IX office, USA Today reported. "The idea that someone could know me and say they understand my trauma but then re-inflict that trauma on me is so disgusting to me, it's hard for me to even wrap my mind around it," Tracy told USA Today. "It's like he sought me out just to betray me."
In a letter to investigators, Tucker characterized his and Tracy's relationship as "mutually consensual and intimate," according to USA Today.
"I am not proud of my judgment and I am having difficulty forgiving myself for getting into this situation, but I did not engage in misconduct by any definition," he wrote, according to USA Today.
CNN has not independently verified the details of the report.
An attorney for Tracy, Karen Truszkowski, said no police report was filed. She declined to share any documents or comment further.
"As you can imagine, this is a delicate issue and I have to balance the public interest with protecting my client," Truszkowski said.
CNN also reached out to Tucker's agent following the announcement of his suspension but has not heard back.
Tracy started the nonprofit Set The Expectation, where she speaks to athletes about ending sexual violence, according to her website. Tracy was raped in 1998 by four college football players, leading to her advocacy.
She served as an honorary captain for Michigan State's spring football game in 2022, and the football team posted a photo on Instagram of Tucker and Tracy together.
"We are excited to welcome (Tracy) back to campus as our honorary captain for Saturday's spring game!" the team wrote.
Tucker, a longtime coach in college and the NFL over the past two decades, became Michigan State's head coach in 2020. In his second season, the team went a sterling 11-2, and he signed a massive 10-year, $95 million contract that made him one of the highest paid coaches in all of college football. Last year, though, the team finished a disappointing 5-7, including blowout losses to rivals Michigan and Ohio State.
During Tucker's suspension, secondary coach Harlon Barnett will fill in as acting head coach, Haller announced, and former MSU head coach Mark Dantonio will become an associate head coach. The Spartans play the Washington Huskies at home this Saturday.
The long shadow of Larry Nassar

The investigation comes as the university has continued to face scrutiny over its past handling of sexual abuse allegations against Larry Nassar, the former Michigan State University and USA Gymnastics doctor who abused hundreds of young girls and women.
At Nassar's sentencing in Michigan in 2018, dozens of women came forward with stories of his abuse and the ways Michigan State University ignored their claims and enabled his actions. The university agreed to pay $500 million to settle lawsuits brought by 332 victims.
Nassar was sentenced in Michigan to up to 175 years in prison after pleading guilty to seven counts of criminal sexual conduct. A total of 156 women gave victim impact statements in court.
An attorney for a group of Nassar's victims sued Michigan State University in July, alleging the school's board of trustees held "illegal secret votes" to prevent the release of thousands of documents in the case, according to the court filing. A spokesperson for the university declined to comment at the time.
The university pushed back on comparisons between the two cases.
"This morning's news might sound like the MSU of old; it was not," interim president Teresa K. Woodruff said Sunday afternoon. "It is not because an independent, unbiased investigation is and continues to be conducted."
Woodruff made note of counseling resources available for anyone who may be affected by this news and mentioned the Center for Survivors and Office for Civil Rights on campus.
"If you have heard or experienced or know of behavior that does not seem appropriate, please know that you have the support and resources here at MSU," Woodruff said.
Kenny Jacoby, the USA Today reporter who broke the story, told CNN's Poppy Harlow and Phil Mattingly on "CNN This Morning" on Monday how the Nassar case has left a long shadow on campus.
"There is deep mistrust on the MSU campus from students, from employees, from alumni and in the East Lansing community after the betrayal that was the Larry Nassar scandal," Jacoby said. "They repeatedly missed opportunities to stop one of the most prolific sexual abusers in American history.
"So when MSU takes this long to suspend the coach without pay – people tend to think of that as they're covering this up, and that doesn't sit well with most of these people."
CNN's Melissa Alonso, Jacob Lev, Jennifer Henderson and Eric Levenson contributed to this report.