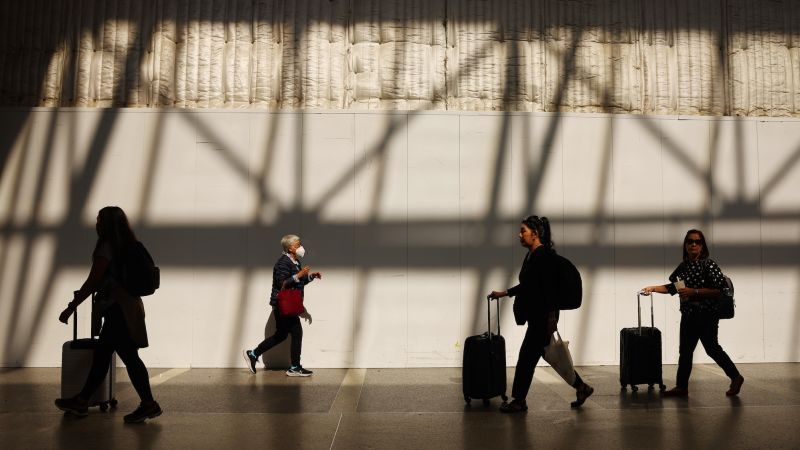 Everyone you know traveled to Europe this summer, despite a jump in airfare.
But don't worry if you missed out — falling ticket prices could make fall the better time to fly.
Prices for airfare early this autumn are much lower than fares over the summer, according to a report Tuesday from Hopper, a travel booking app. Airlines are scrambling to entice more customers to travel during the off-peak season, aiming to boost demand.
Airfare to top international destinations will drop in the fall as well, with prices to Europe down 31% from summer peaks — nearly $330 off ticket prices.
Domestic fares are down from last year and 2019, too.
Airfare for domestic trips in September and October is averaging $211 a ticket. That's down 29% from average prices for trips in June, July and August.
Known as "shoulder season," airfare typically drops in the fall as demand cools off after the busy summer months.
Most Americans fit vacations into the peak summer months, traveling when schools are out and work schedules can be more flexible.
In an effort to incentivize travelers to book trips in early fall, airlines slash prices to spur travelers to schedule a trip before the winter holidays, Hopper said in its report.
Spirit Airlines said Wednesday that airlines were offering discounts to entice travelers.
"Heightened promotional activity with steep discounting" for bookings during the weeks leading into Thanksgiving weekend will hurt its profit this coming quarter, the company said.
"Revenge Travel" slowdown

International travel roared back this summer. After three years stuck close to home, people headed to Europe and the Pacific in droves.
The three major US international airlines — American, Delta and United — all saw a surge in international traffic in recent months and added additional service to meet demand.
But the Federal Reserve is projecting a travel slowdown this fall.
Several of the Fed's 12 regional districts reported peaking or even slowing tourism activity in its regular "Beige Book" economic snapshot last week. Across America, bars, hotels and restaurants reported consumers were splurging on "revenge travel," making up for lost time during pandemic-era shutdowns.
"Consumer spending on tourism was stronger than expected, surging during what most contacts considered the last stage of pent-up demand for leisure travel from the pandemic era," the Fed said.
Frontier Airlines flagged lower bookings Wednesday: "In recent weeks, sales have been trending below historical seasonality patterns." It forecast an adjusted loss for the quarter.
One factor that could cause ticket prices to increase, however, is rising fuel prices.
American Airlines said that fuel prices have "increased considerably" since July, when it issued its initial third-quarter guidance.
The airline is paying about $3 per gallon for jet fuel.
Oil prices surged 9.1% last month, according to the Labor Department's Consumer Price Index report that came out Wednesday.