Libya is racing to bury its dead as bodies pile up in the streets of Derna, the northern coastal city devastated by flooding after a torrential downpour smashed through two dams, washing homes into the sea.
Morgues are full in hospitals that remain out of service despite the desperate need to treat survivors of a disaster that has far so killed at least 5,000 people, according to hospital staff and officials from Libya's eastern parliament-backed government.
Around 10,000 more are missing, potentially either swept out to sea or buried beneath rubble that's strewn throughout the city once home to over 100,000 people, authorities say.
Emergency teams are searching through piles of debris for survivors and bodies, as officials attempt to honor Islamic beliefs that the dead should receive burial rites within three days.
"The Martyrs' committee (has been set up to) identify the missing people and to implement procedures for identifying and burial of in accordance with Sharia and legal laws and standards," said Libya's minister of state for cabinet affairs, Adel Juma.
The destruction caused by Storm Daniel has made a mammoth mission even harder for rescuers trying to clear roads and debris to find survivors.
The storm took out communications, frustrating rescue efforts and causing anxiety among family members outside Libya who are waiting for news of missing loved ones.
Ayah, a Palestinian woman with cousins in Derna, said she has been unable to contact them since the floods.
"I'm really worried about them. I have two cousins who live in Derna. It seems all communications are down and I don't know if they are alive at this point. It is very terrifying watching the videos coming out of Derna. We are all terrified," she told CNN.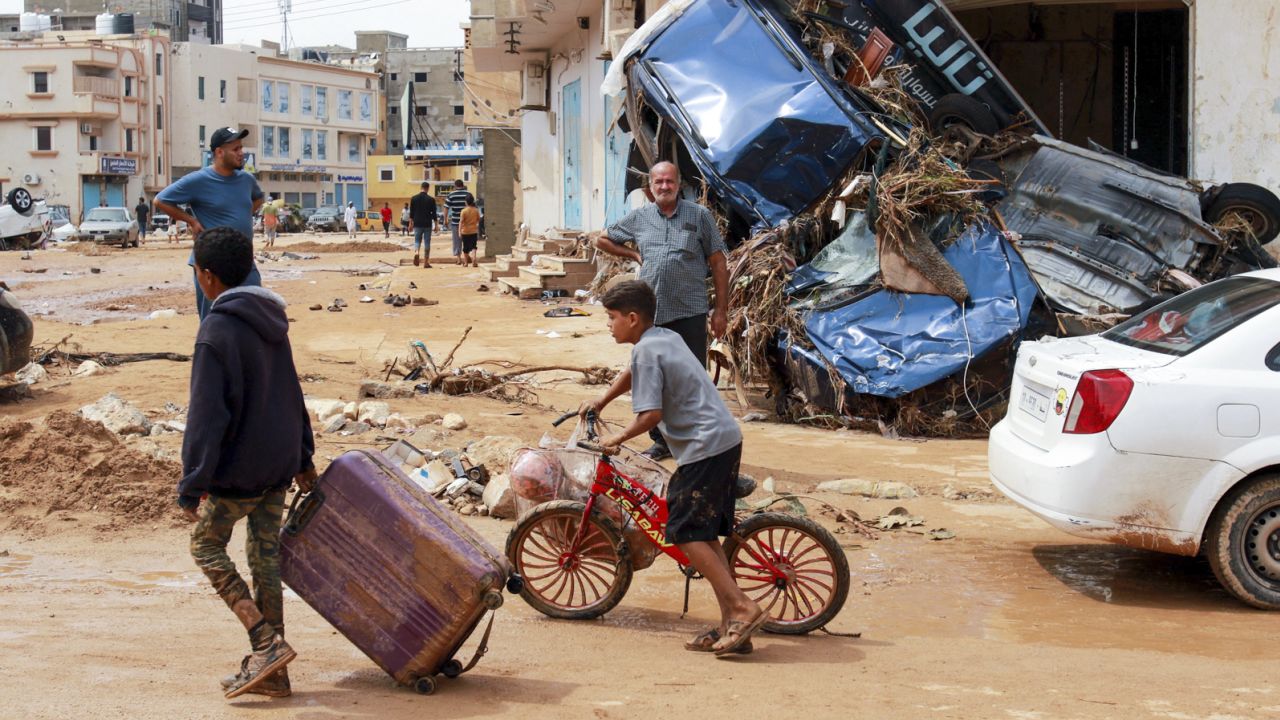 Libya was convulsed by the 2011 uprising against the rule of Muammar Gaddafi and ripped apart by civil war. The scale of the destruction underscores the vulnerability of a country that has for years grappled with warring factions and chaos.
The UN-backed Government of National Unity (GNU), led by Abdulhamid Dbeibeh, sits in Tripoli in northwest Libya, while its eastern rival is controlled by commander Khalifa Haftar and his Libyan National Army (LNA), who support the eastern-based parliament led by Osama Hamad.
Derna, which lies some 300 kilometers (190 miles) east of Benghazi, falls under the control of Haftar and his eastern administration.
Not prepared for such a 'catastrophe'
Storm Daniel looks to have created one of the deadliest floods on record in North Africa.
The very strong low-pressure system moved into the Mediterranean before developing into a tropical-like cyclone and crossing the Libyan coast. Daniel also brought unprecedented flooding to Greece last week, where the death toll was much lower.
The deadly storm comes in an unprecedented year of climate disasters and record-breaking weather extremes, from devastating wildfires to oppressive heat.
While the floods affected several cities across the region, Derna suffered the most damage after two dams collapsed, washing entire neighborhoods into the churning sea.
"Libya was not prepared for a catastrophe like that," said Osama Aly, an Emergency and Ambulance service spokesperson.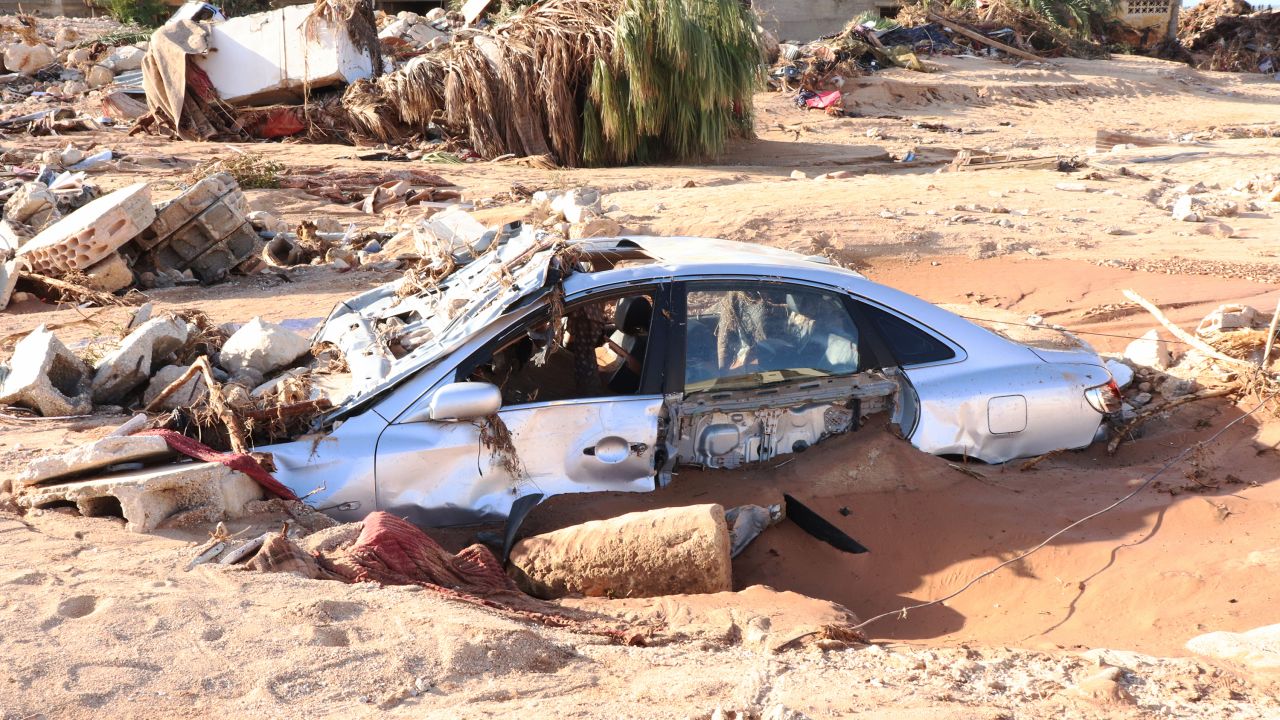 Countries and organizations send help

The International Rescue Committee (IRC) said the country faces "an unprecedented humanitarian crisis."
Ciaran Donelly, IRC's senior vice president for crisis response, said the committee is conducting a joint needs assessment to support those affected by the floods, while also appealing for the international community for help.
"We must remember that Libya is not just a country in crisis; it is also a gateway for people on the move to Europe," he said. "The IRC has been working tirelessly since 2016 to provide essential healthcare and protection to vulnerable Libyans, refugees, and migrants affected by this protracted crisis."
Turkish aircraft delivering humanitarian aid arrived in Libya on Tuesday, according to Turkey's Emergency Management Authority (AFAD). President Recep Tayyip Erdogan said the country would send 168 search and rescue teams and humanitarian aid to Benghazi, according to state run news agency Anadoulu Agency.
Italy is sending a civil defense team to assist with rescue operations, the country's Civil Protection Department said Tuesday.
Meanwhile, the US Embassy in Tripoli announced that its special envoy, ambassador Richard Norland, had made an official declaration of humanitarian need.
This "will authorize initial funding that the United States will provide in support of relief efforts in Libya. We are coordinating with UN partners and Libyan authorities to assess how best to target official US assistance," it posted on X (formally known as Twitter).
United Arab Emirates President, Zayed Al Nahyan, has also directed to send aid and search and rescue teams while offering his condolences to those affected by the catastrophe, state news agency reported.
Hamdi Alkhshali, Mostafa Salem, Kareem El Damanhoury, Celine Alkhaldi, Mostafa Salem, Mohammed Tawfeeq and AnneClaire Stapleton contributed to this report.