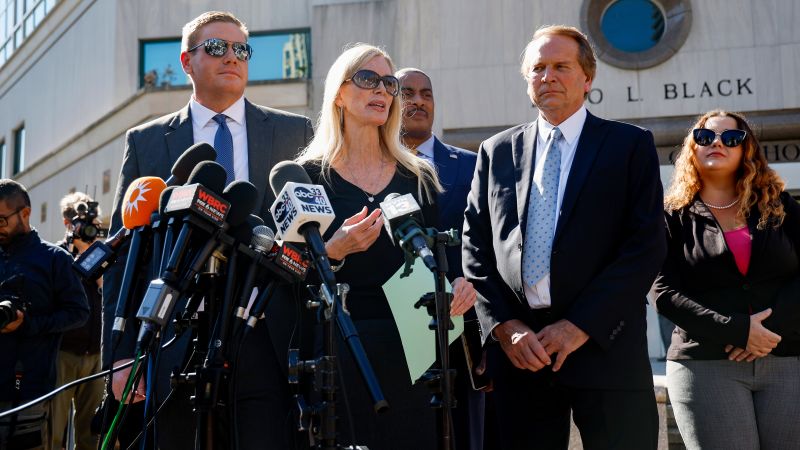 Beth Holloway has waited nearly two decades for an end to her family's "never-ending nightmare" – and while that doesn't mean getting her daughter back, it does include getting justice for the Alabama teen who disappeared in 2005 on a graduation trip to Aruba.
On Wednesday, Joran Van der Sloot, 36, pleaded guilty in federal court to extorting and defrauding the Holloway family. He was accused of trying to sell information about the location of Holloway's remains to her family in exchange for $250,000.
"It's over. Joran van der Sloot is no longer the suspect in my daughter's murder," Beth Holloway said to reporters following Wednesday's hearing. "He is the killer."
The 18-year-old's body has never been found. In 2012, an Alabama judge signed an order declaring her legally dead.
In a proffer dated October 3, Van der Sloot provided authorities with the details of how he killed Natalee Holloway. A proffer allows a defendant to offer information about a crime, sometimes as part of a plea deal.
As part of Wednesday's hearing, Beth Holloway read aloud an emotional victim impact statement which can be read in its entirety here.
"Joran, for eighteen years you have denied killing my daughter Natalee," Beth Holloway wrote. "Your lies and manipulation, taunting us with fake news interviews and wild stories of what happened to her, have caused indescribable pain and harm to my family and me."
"The grief I feel lives way down deep in my soul," she continued.
Van der Sloot is serving a 28-year prison sentence in Peru for the 2010 murder of Stephany Flores. Peruvian officials allowed his temporary release to the US in June to face the extortion and wire fraud charges.
He was expected to return to Peru to finish his murder sentence in the Flores case before returning to the US to serve time for the federal charges. But Wednesday's plea agreement specifies that his US federal sentence will be served concurrently with his sentence in Peru.