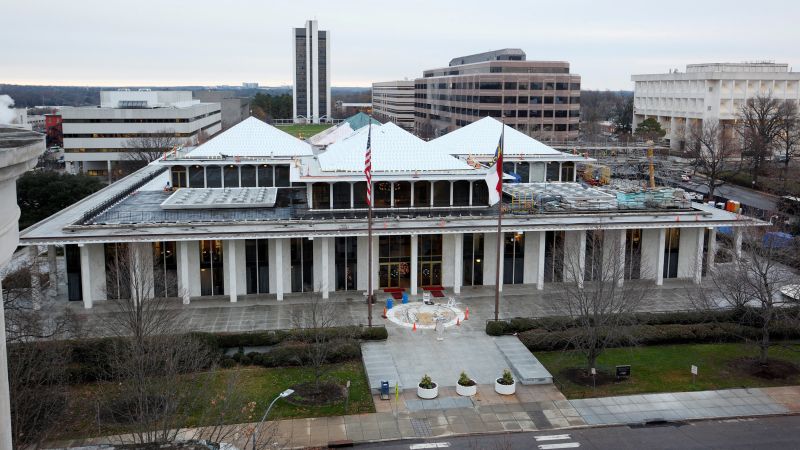 Republican legislators in North Carolina on Wednesday released two redistricting proposals that could put at risk as many as four Democratic-held seats in the US House – in a move that could help determine which party gains the upper hand in the chamber after the 2024 elections.
The new maps are slated to be considered by the GOP-controlled state legislature as they work to settle on final lines. Democratic Gov. Roy Cooper does not have veto power over redistricting legislation in North Carolina.
The latest effort was long expected to prove a windfall for the GOP, which holds supermajorities in the North Carolina legislature. The state's current congressional delegation is split 7-7.
Both of the proposed maps released Wednesday would put three House Democrats in "almost impossible to win" districts, said Chris Cooper, a political science professor and redistricting expert at Western Carolina University.
The affected Democrats would be Reps. Jeff Jackson, who currently represents a Charlotte-area district; Wiley Nickel, who holds a Raleigh-area seat; and Kathy Manning, who represents Greensboro and other parts of north-central North Carolina.
One of the plans under consideration could also knock off a fourth Democrat because it would draw two of the state's three Black House lawmakers – Reps. Don Davis and Valerie Foushee – into the same district. Under the other proposal, Davis would not face off against Foushee, but his seat would become more friendly toward Republicans while remaining competitive for both parties.
The North Carolina Democratic Party condemned the new map proposals Wednesday.
"Diluting our voices, specifically the voices of people of color, to entrench power is a manipulation of our democracy," party Chair Anderson Clayton said in a statement.
Depending on the map lawmakers ultimately choose, Republicans would be favored to win as many as 11 of the state's 14 congressional districts next year, experts say. The state, as a whole, remains more evenly divided politically, with North Carolina voters backing Donald Trump over Joe Biden by 1 point in 2020.
Republicans currently hold a narrow majority in the US House – a fact made conspicuous by their struggle to elect a new speaker. Around the country, from New York to Utah, politicians are engaged in pitched legislative and court battles over individual district lines as they jockey for any advantage. Earlier this month, a federal court approved a new map in Alabama, which created a new Democratic-leaning seat.
Changes to North Carolina's congressional map, however, would not guarantee Republicans the edge in next year's elections. In New York, for instance, Democrats could have the final say in map-drawing, potentially canceling out any GOP gains in the Tar Heel State.
Key wins by North Carolina Republicans in the 2022 midterm elections gave the party greater authority over the redistricting decisions now underway.
Notably, Republicans flipped North Carolina's Supreme Court, whose members are chosen in partisan elections. Earlier this year, the court's new GOP majority tossed out a 2022 ruling by the then-Democratic-leaning court against partisan gerrymandering.
A map that had been created after that 2022 ruling resulted in the state's current evenly divided congressional delegation.
"The Republicans have the power to draw the lines," said Cooper, the Western Carolina University political scientist. "They feel emboldened because they have a Republican majority in the state Supreme Court, and these maps – at least at this early stage – seem to reflect that."
Committee hearings are planned for Thursday with final votes in the North Carolina legislature expected next week.
CNN's Dianne Gallagher and Ethan Cohen contributed to this report.