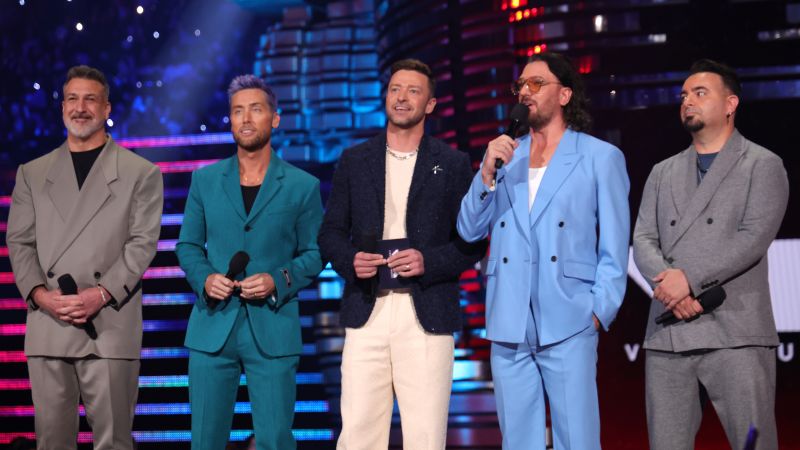 When 90s boy band *NSYNC were at the height of their fame, their tour bus was followed by a "stampede" of fans on one specific occasion, Justin Timberlake recalled while appearing on Thursday's episode of "Hot Ones" with the group.
He described how he and his bandmates – Lance Bass, Chris Kirkpatrick, JC Chasez and Joey Fatone – watched this group of fans follow their bus through a giant field that had a hole in the middle of it – into which they all fell.
"I felt terrible," Timberlake said, adding that on a separate occasion, the *NSYNC fandom was so wild that they returned to their hotel suite to find a fan had somehow snuck in.
The anecdotes were just a few that the recently-reunited boy band reminisced about while appearing on Season 22 of the famed hot wing interview show – including Timberlake mentioning how he did in fact get a "note" from a producer to pronounce "me" like "may" in their 2000 hit song "It's Gonna Be Me."
The pronunciation of the word spawned a viral meme over 10 years ago, and continues to circulate on social media in late April when it, indeed, is "gonna be May."
*NSYNC's appearance on "Hot Ones" follows the news from earlier this month that the original five members got back together to record their new track "Take You to a Better Place" for the upcoming "Trolls Band Together" movie.
It's the first song they're releasing as a group in over 20 years.
Describing their technical approach to recording the new song, Kirkpatrick said on "Hot Ones" that not much has changed since their glory days, playfully observing, "We kinda knew we sucked at singing certain things so we just fell into our spots."
He went on to explain how they always knew he'd "do the high stuff," Timberlake would be on lead vocals and that "Joey would be in the middle and Lance would be on the bass."
It was a careful balance they tried to achieve "for our fans that have been with us for so long to give them something that felt not necessarily nostalgic, but familiar," Timberlake said of recording "Better Place."
"While we listen to the world today, we're obviously influenced by 20 years of experiences," Chasez added. "But we still want to give them us."
"Take You To a Better Place" will be released on September 29.