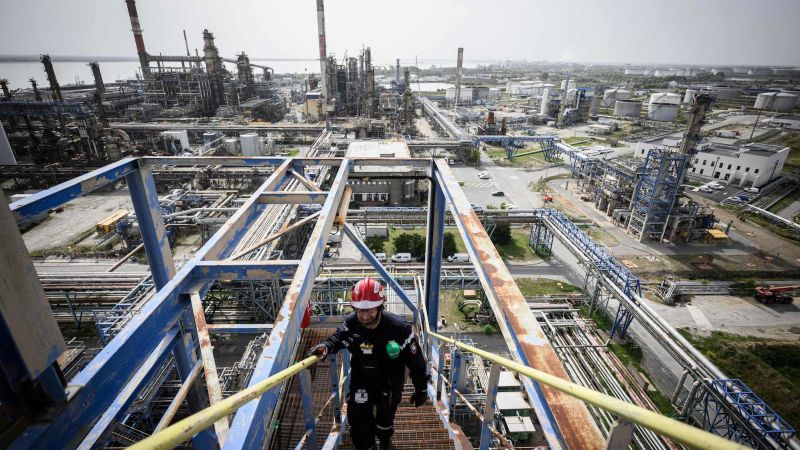 Global oil prices climbed above $92 a barrel on Tuesday for the first time in nearly 10 months as the energy market braces for supply disruptions caused by catastrophic flooding in Libya.
At least 2,000 people have died and 10,000 are believed missing following the deadly flooding that broke dams and swept away countless homes there.
Brent crude, the world benchmark, jumped nearly 2% to an intraday high of $92.38 a barrel. That's the highest price since November 17, 2022. US oil prices popped 2.3% to as much as $89.29 a barrel, also the highest level since November.
The latest rally for oil prices will continue to push up prices at the pump for consumers and add to inflation across the US economy.
Analysts blamed the price surge on the deadly flooding in Libya, which will temporarily disrupt oil exports from that OPEC nation. It produced about 1 million barrels of oil per day in August, according to OPEC.
"Libya has a number of ports that are not able to export," said Matt Smith, lead oil analyst for the Americas at Kpler. "It's one more thing adding to the bullish side of the ledger for crude."
The Libyan flooding comes just a week after Russia and Saudi Arabia sent oil prices climbing by announcing plans to extend their aggressive supply cuts.
Gasoline prices, which lag oil prices, have edged higher this week as a result of that announcement.
The national average for regular gasoline hit $3.84 a gallon on Tuesday, up from $3.81 a week ago, according to AAA. Gas prices are now 12 cents higher than at the same point last year.
Government forecasters are warning that prices are unlikely to cool off much in the coming months.
The US Energy Information Administration, an arm of the Energy Department, said Tuesday it expects retail gasoline prices will average $3.69 a gallon during the fourth quarter of this year. That's up from $3.57 previously.
The EIA also raised its forecast for diesel and oil prices for the fourth quarter of this year and first quarter of next year.
If these forecasts hold true, energy prices will continue to complicate central bankers' efforts to tame inflation. Economists expect that Wednesday's Consumer Price Index inflation report will show consumer price gains accelerated in August, in large part because of the late summer jump in gas prices.
"This is going to reignite inflationary concerns," said Smith. "It's difficult to understand how this will end when you have such a major force – Saudi Arabia – intervening in the market to prop up prices."