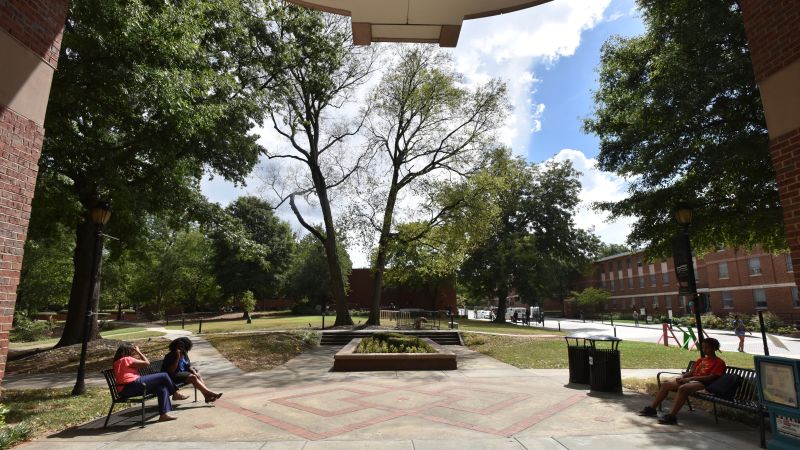 The HBCU Transformation Project, a collaborative venture between the United Negro College Fund, Thurgood Marshall College Fund and the Partnership for Education Advancement, announced on Wednesday a $124 million investment from philanthropic group Blue Meridian Partners.
The gift will be used to increase enrollment, improve efficiency, enhance infrastructure and promote economic mobility at some of the nation's Historically Black Colleges and Universities, according to a news release by the HBCU Transformation Project.
Forty HBCUs currently work with the project, which was launched in 2022, with more schools expected to join before the end of the year.
UNCF President and CEO Michael Lomax told CNN he's thrilled by the investment in the futures of Black students.
"HBCUs have done more with less for years, and this is I call it an investment, because we have to produce different outcomes, we want to increase enrollment, we want to increase our retention of students, (and) we want to have increased graduation rates," Lomax said.
Lomax told CNN the financial investment by Blue Meridian Partners is just part of the effort needed to transform HBCUs.
"We've got to build a lot of financial infrastructure for our institutions. Yes, we've gotten good support over the last three years. But for 150 years prior to that, we had little or no support," he said.
The $124 million comes after Blue Meridian's initial $60 million investment to the HBCU Transformation Project to support high-performing and high-potential HBCUs.
HBCU enrollment has increased sharply since the peak of the Covid-19 pandemic, according to the HBCU Transformation Project. Member institutions, like Morehouse College in Atlanta, were able to use some of the funding to train instructors to teach online when in-person learning shut down.
Prior to 2020, the number of HBCUs offering online courses was very small, Melvin Foster, associate provost for academic success at Morehouse College, told CNN.
"Then, because of the pandemic, and the swift funding that UNCF provided, overnight it seemed, that I think almost all HBCUs went from being non-online teaching institutions to being online teaching institutions," Foster said.
Foster told CNN the investment will also be used to overhaul classrooms and student facilities, and modernize the educational software used in classrooms.
Despite the opportunities this significant gift will provide Black students, Lomax told CNN, "More financial investment is needed."
"HBCUs need greater investment in order to help students get a quality education without graduating with massive debt," Lomax said.