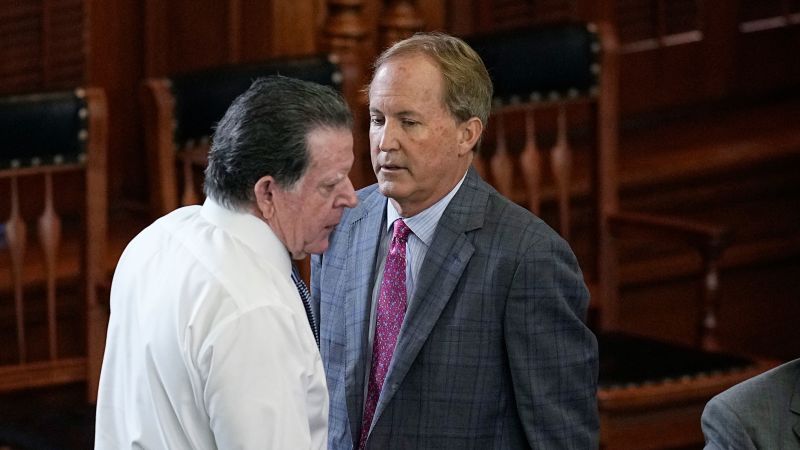 The Texas House members leading the effort to impeach Ken Paxton said the Republican attorney general had abused his office and betrayed both voters and the conservatives who worked for him as they delivered closing statements Friday in Paxton's two-week impeachment trial before the state Senate.
"He may claim to be one of us. But unlike the public servants here today, he has no regard for the principles of honor and integrity," Republican state Rep. Andrew Murr, the chair of the House impeachment managers, said Friday morning.
Paxton's attorney, Tony Buzbee, meanwhile, described the House's case as "a joke," motivated by fractures within the Republican Party, which dominates all branches of Texas government.
"The only evidence we have in this case is they don't like Ken Paxton," Buzbee said.
Paxton has been suspended from office since the House voted in May to impeach him. If he is convicted, he will be removed permanently, and the state Senate would hold a separate vote on whether to bar him from seeking office again.
The two-week trial at the Texas State Capitol in Austin reached its end Friday when both the House impeachment managers and Paxton's legal team were given one hour each for closing arguments. Paxton appeared on the state Senate floor for the first time since entering his not guilty pleas on the trial's first day.
To remove Paxton from office, 21 of the 30 senators eligible to vote – Paxton's wife, Angela, is a state senator but cannot vote – must find the attorney general guilty of at least one of the 16 articles of impeachment, most of which stem from allegations that he abused his office to benefit friend and donor Nate Paul.
Lt. Gov. Dan Patrick, a Republican who has presided over the trial, said reporters and members of the public would receive at least 30 minutes' notice when senators have reached verdicts.
"I have no idea how long the jury is going to deliberate. It could be hours; it could be days," Patrick said.
He instructed senators to avoid discussing the impeachment trial outside their deliberations or considering any information other than what was presented during the trial – including avoiding media coverage.
"You may not look at television. You may not look at your phone," Patrick said.
The GOP-led House's move to impeach Paxton followed the attorney general's request for $3.3 million in state funds to settle a lawsuit with whistleblowers – high-ranking former staffers who said they were improperly fired after reporting his alleged wrongdoing.
Murr, one of the House impeachment managers, said his chamber had "discovered unprecedented abuse in the Texas attorney general's office."
"He repeatedly demanded that his top deputies act as Nate Paul's personal lawyers and not the state's lawyers," Murr said of Paxton.
"His lawyers have come in here and tried to normalize his behavior," Murr said. "They want you to believe there was nothing wrong with Mr. Paxton ignoring his senior staff's repeated warnings about Nate Paul."
The comments from Murr and Buzbee came at the start of what could be up to two hours of closing statements.
Murr spoke for less than 10 minutes. Paxton's attorneys were then scheduled to receive one hour for their closing arguments, followed by another 50 minutes for the House impeachment managers.
Buzbee, Paxton's defense attorney, began his closing statement by describing the impeachment effort as "a political witch hunt" against his client "with no evidence."
"If this can happen to him, it can happen to anyone," he said.
"What is this case about?" Buzbee asked state senators. "It's about nothing. It's about nothing."