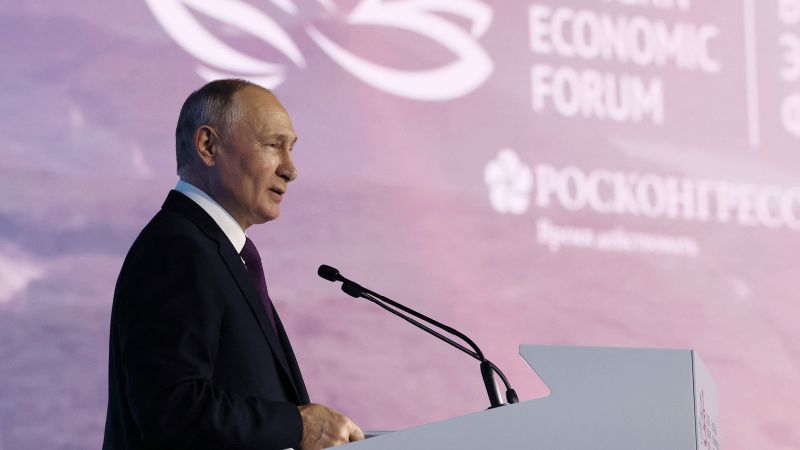 Economic relations between Moscow and Beijing have become very strong, Russia's president said Tuesday, a year and half after sweeping sanctions dramatically curtailed ties with the West.
"Relations between Russia and China in the sphere of economic cooperation have reached a very high level," Vladimir Putin said, speaking at the Eastern Economic Forum in Vladivostok, Russia, according to Russian state-owned news agency TASS.
"Of course, this is all a derivative of what has been achieved in the political sphere. But nevertheless the results are more than good, they are excellent."
Russia has become increasingly dependent on China since the Kremlin's full-scale invasion of Ukraine in February 2022, which set off a flurry of sanctions against Moscow led by the United States and other members of the G7 group of advanced economies.
China, however, has declared "no limits" to its friendship with its northern neighbor and its economic lifeline has tempered the impact of Russia's banishment from the global financial system.
Trade between the two soared 40% in the first five months of this year, according to Chinese customs data, even as it slowed between the world's second-biggest economy and other key partners. Russian Prime Minister Mikhail Mishustin said in May that he expected trade with China would top $200 billion this year.
Oil, cars and banks

Russia is now China's biggest supplier of crude oil, ahead of Saudi Arabia. Almost a fifth of China's crude imports in July came from its Eurasian neighbor, the Organization of the Petroleum Exporting Countries said in a report Tuesday.
Together with India, China accounted for 80% of Russian oil exports in July, helping Moscow rake in an estimated $15.3 billion in revenues, the International Energy Agency said in its latest oil market report.
Russia's reliance on China for consumer goods has also grown. It was the top foreign buyer of China's car exports by value in the first seven months of the year, according to the China Association of Automobile Manufacturers.
As many Western banks have reduced their presence in Russia, China's lenders swooped in to offer banking services.
Between February 2022 and March this year, the assets of Chinese banks in the country more than quadrupled to $9.7 billion, according to data collected by KSE Institute at the Kyiv School of Economics. Of China's four biggest banks, Bank of China and the Industrial and Commercial Bank of China saw the biggest increases in their Russian assets.
Another valuable link to the outside world has been provided by China's yuan as Russia tries to wean itself off the dollar and the euro.
In a report in late June, the European Central Bank said there was evidence that Russia had used the yuan "to a significantly greater extent" for international invoicing and cross-border payments in the previous few months.
Russia's own currency has weakened since the outbreak of the war. At an emergency meeting last month, the day after the ruble tumbled past 100 rubles to the dollar, the country's central bank jacked up its main interest rate by 3.5 percentage points to 12%.
The Russian currency has since strengthened but is still around 15% below its level immediately before the invasion.
Speaking at a conference Tuesday, Putin downplayed concerns about the ruble, saying its exchange rate was "a manageable situation."
— Laura He, Josh Pennington, Alex Stambaugh, Mitch McCluskey and Anna Chernova contributed reporting.