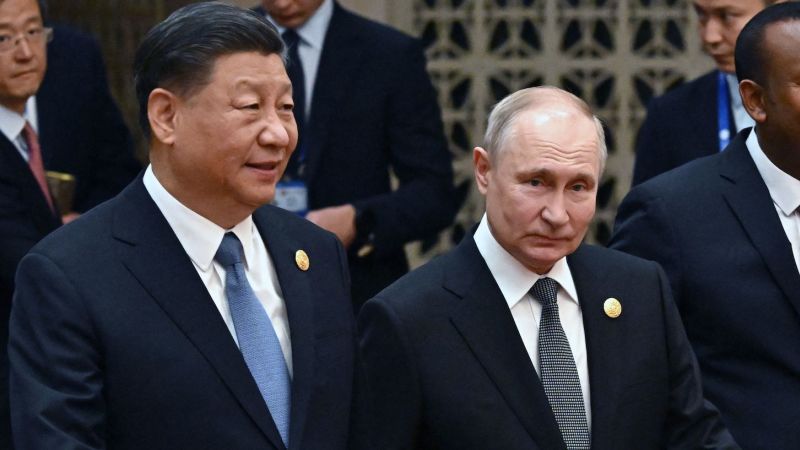 Russian President Vladimir Putin on Wednesday touted his country's deep alignment with China as he appeared on stage as guest of honor at a global gathering in Beijing, where Chinese leader Xi Jinping pitched his vision for a reshaped world order.
In a previously unannounced speech at the opening ceremony of the Belt and Road Forum, Putin hailed Xi's flagship foreign policy initiative as "aiming to form a fairer, multi-polar world."
Russia and China share an "aspiration for equal and mutually beneficial cooperation," which includes "respecting civilization diversity and the right of every state for their own development model" – he added, in an apparent push back against calls for authoritarian leaders to promote human rights and political freedoms at home.
Putin spoke after Xi, who welcomed two dozen world leaders and more than a hundred delegations to an event marking the 10th anniversary of the Belt and Road Initiative – an ambitious yet controversial undertaking to boost connectivity and trade across the world with Chinese infrastructure projects.
Xi lauded his initiative for providing an alternative development model for the world, saying it "established a new framework for international cooperation."
The gathering in Beijing's cavernous Great Hall of the People took place under the shadow of a war in the Middle East that threatens to escalate into broader regional conflict – and served as a stark showing of the deepening divisions between world powers.
As leaders and representatives from countries mostly in the Global South gather in the Chinese capital, US President Joe Biden is set to arrive in Israel later on Wednesday in a show of staunch support for its ally, which has vowed to eliminate Hamas following the Islamic militant group's brutal attack on Israel earlier this month.
China and Russia have both called for ceasefire in the spiraling conflict and have declined to explicitly condemn Hamas – cutting a stark contrast to the outpouring of support for Israel from the US and leaders across Europe.
While not addressing the conflict directly, Xi alluded to an apparent shift in global power and leadership in his speech Wednesday. "Changes of the world, of our times and of historical significance are unfolding like never before," he said.
"China is endeavoring to build itself into a stronger country and rejuvenate the Chinese nation on all fronts by pursuing Chinese modernization. The modernization we're pursuing is not for China alone, but for all developing countries through joint efforts."
In a thinly veiled swipe at the United States, the Chinese leader said China opposed unilateral sanctions, economic coercion and decoupling in supply chains.
"Ideological confrontation, geopolitical rivalry and bloc politics are not a choice for us," he said.
"Viewing others' development as a threat or taking economic interdependence as a risk will not make one's own life better or speed up one's development."
Other world leaders in attendance, including Kazakh President Kassym-Jomart Tokayev and Indonesia's Joko Widodo, also gave addresses, with many echoing Xi's call for increased global development and a more multilateral, cooperative world.
An alternative world order

Xi, the most powerful and assertive Chinese leader in decades, has been ramping up efforts to project China as an alternative leader to the US – with a vision for how global security and development should be ensured.
Hosting leaders in Beijing – China's first major international event since the end of the Covid-19 pandemic – is a key part of his push to pitch that vision to nations it has forged close ties with over the past decade as Xi aimed to vastly expand his nation's global influence.
World leaders, representatives and delegations from more than 140 countries – including in the Middle East and the Taliban – are attending the gathering marking one decade since the launch of Xi's flagship Belt and Road Initiative.
But it also comes as China faces stark challenges at home, with a slowing economy, high unemployment and a series of recent unexplained shake-ups in the upper echelons of the ruling Communist Party.
Beijing aims to gloss over these challenges at the gathering to project its power and laud its contributions to global development as a prime example of its superior leadership.
That signature foreign policy has marshaled hundreds of billions in Chinese finance to build ports, power stations, bridges, rails and roads around the world – significantly expanding China's international interests and influence along the way.
More than 150 countries have cooperated on the program, which Beijing says has mobilized "up to a trillion dollars in investments," spurring growth in developing nations.
But it faces increasing headwinds as China's economic growth engine slows amid a shifting financial climate worldwide and questions about its high costs for countries – from debt to environmental impact.
China's infrastructure building spree has now made it the world's largest debt collector, analysts say.
In his address Wednesday, Xi brushed aside criticisms and reiterated his commitment to the initiative.
"What has been achieved in the past 10 years demonstrates the Belt and Road cooperation is on the right side of history. It represents the advancing of our times and it's the right path forward," he said.
Xi also proposed an eight-part action plan on the Belt and Road initiative, including the full removal of restrictions on foreign investment in Chinese manufacturing and an initiative on global artificial intelligence governance.