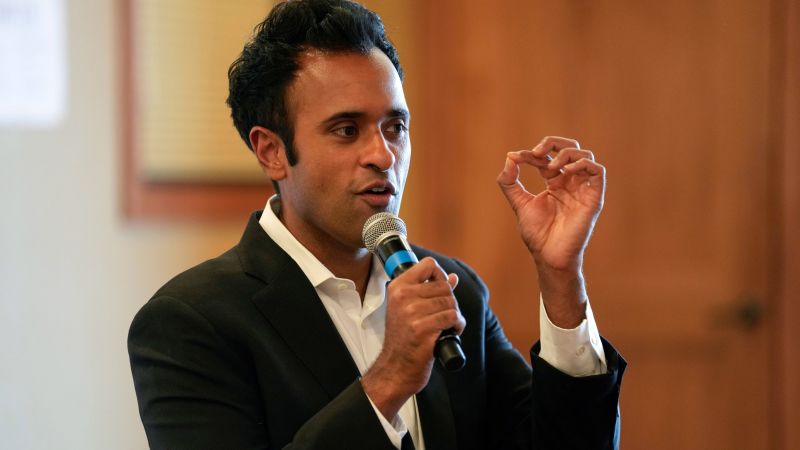 Entrepreneur Vivek Ramaswamy is focused on a new objective weeks after his standout debate performance, when he just wanted to get his name out. Now he's looking to differentiate himself from former President Donald Trump, display his policy chops and establish himself as an authentic MAGA-aligned Republican candidate.
His campaign is widely touting a speech he's giving Wednesday, when he's also releasing a white paper on his domestic policy proposals. In a sharpening of his message toward the former president, whom he's defended and praised since launching his campaign in February, he's expected to focus on an issue he believes Trump failed to adequately address – shrinking the size of the federal government.
The positioning of this first-time candidate – and the way he's now setting out his own ideas to prove he's not a Trump acolyte – suggests his campaign is looking for staying power in the 2024 Republican primary still dominated by the former president.
"He needs to differentiate himself from Donald Trump," a veteran Republican campaign strategist said, stressing the importance of candidates coming across as authentic. "If he wants to go to the next level, he needs to start figuring a way to differentiate himself [from Trump] instead of trying to be him."
The Ohio-based entrepreneur is expected on Wednesday to lay out the details of a policy to eliminate multiple federal agencies and implement mass layoffs of federal employees – part of his effort to set himself apart from other Republicans, including Trump, ahead of the next debate later this month.
Contrasting Trump's record with his own proposals is a new tactic for Ramaswamy. He has resoundingly defended the Trump administration on several issues and the former president amidst criminal indictments in four different investigations. He has repeatedly pledged to pardon Trump of any federal charges on his first day in office, frequently denouncing Trump's legal jeopardy as "political persecution by prosecution." During last month's debate, he called Trump "the greatest president of the 21st century."
Wednesday's speech at the America First Policy Institute, a think tank founded in 2021 by former Trump administration officials, gives Ramaswamy an opportunity to make the case for his conservative vision and how it might go further than Trump's. Ramaswamy has regularly touted his vision for eliminating the "deep state" as going beyond what Trump's was able to do in office and what he's suggested for another four years. The speech is expected to detail what Ramaswamy's campaign sees as the legal justification for his argument that the president has the authority to overhaul the structure of the federal government.
"I think that's going to be a groundbreaking, seismic leap for our movement. Takes the America First movement to the next level," Ramaswamy said in a preview of his speech to reporters in Durham, New Hampshire, on Sunday.
A policy paper prepared by the campaign and obtained by CNN spells out the legal framework Ramaswamy believes would give him authority as president to eliminate the Department of Education, the FBI and the Nuclear Regulatory Commission and lay off thousands of workers in the process. It details how Ramaswamy would navigate around civil service protections for federal employees by using a loophole that he says allows for a "reduction in force" to fall under different criteria than individual firings. And it cites provisions in a 1977 law outlining a pathway for a short-term reorganization of the executive branch during the Carter administration, which Ramaswamy says are still in effect and give the president power to change the organization of any federal agency.
"Conservatives have long been frustrated by an expansive and unaccountable federal administrative state, but the good news is that the democratically elected leader of the executive branch is already empowered by Congress to dramatically reduce the size and scope of sprawling federal agencies," Ramaswamy says in the policy paper. "The missing element is a U.S. President who reads the law carefully and is prepared to act accordingly."
'The adviser class duped him'
A graduate of Yale Law School, Ramaswamy often cites his familiarity with constitutional law as a key differentiator between himself and Trump, whom he has characterized as being naively misled by advisers in his efforts to reduce the size of the federal bureaucracy.
"I think the combination we're going to need is, on one hand, a president who is an outsider, who is not a product of that swamp, who is willing to have complete and total disregard for the norms of that bureaucracy, and I do have that," Ramaswamy told the audience at a campaign event in Hollis, New Hampshire, on Sunday.
"But it also has to be an outsider who has a first-personal understanding of the law and the Constitution of this country, or else the adviser class that comes from that same swamp is going to say, 'Hey, here are all the reasons why you can't do it.'"
"I think that's where my predecessor, Donald Trump, fell short, is the adviser class duped him," he added.
Ramaswamy proved last month that he could be a formidable debater, squabbling at times on stage with former South Carolina Gov. Nikki Haley and former New Jersey Gov. Chris Christie, while also trying to avoid alienating Trump-aligned voters.
That debate earned him more attention – which has included questions about what exactly his reasoning for running for president is and whether he is a true champion of the MAGA movement who wants to usher in a new more conservative era.
Ramaswamy has stressed in recent interviews that he's not attracted to the allure of the presidency; he just wants to have more of an impact achieving conservative policy goals than Trump did.
"I don't relish the idea of being president," Ramaswamy said in an interview with the "REAL AF with Andy Frisella" podcast. "When we started this campaign, we were playing to win, my heart was in it to win. But now it's real, right? We're on a trajectory, the same trajectory that Trump was. Honestly, I was talking to my wife two nights ago and saying, 'I think this is going to happen.' Neither of us is looking forward to it. But by the time we get out in January 2033, our older son, he won't even be in high school yet, I think we will feel good about what we did for this country."
Ramaswamy, who's restarting his podcast with a second season this week, so far has taken an always-visible-always-available approach, which may have helped boost his name recognition in the primary. A CNN poll conducted after the first debate showed Ramaswamy with 6% support among Republicans and Republican-leaning independents, far below Trump's 52%. But he was the only participant in that debate whose standing improved significantly since June polling.
Alice Stewart, a Republican strategist and CNN political commentator, noted that Ramaswamy's campaign is now in a moment where the scrutiny is greater.
"This is the time when, as a campaign and a candidate, you have to be careful about what you say and how you say it because everything is going to get picked apart," Stewart said.