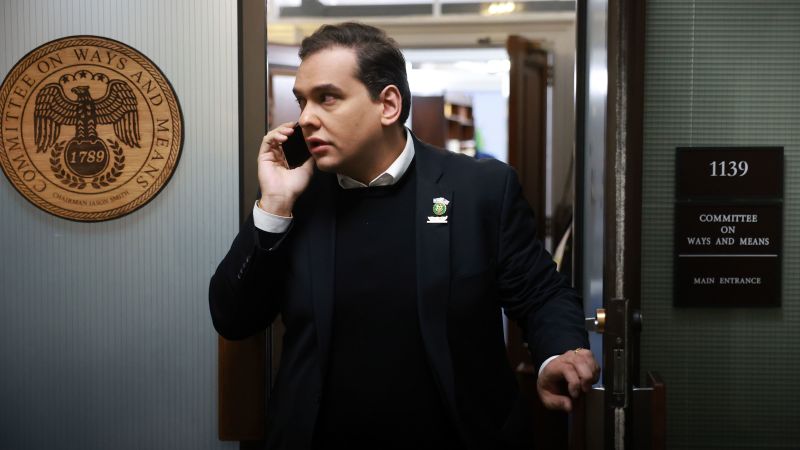 Embattled Rep. George Santos remained defiant on Wednesday after facing new federal criminal charges, insisting he would not accept a plea deal and that he will run for reelection next year.
Santos, a New York Republican, claimed that none of the 23 charges against him had any merit, contending that he would fight them all in court and battle calls for his expulsion.
"I'm going to continue to fight this as much as I said in the past. Nothing has changed," Santos told a small group of reporters in his office on Wednesday morning. "I think I've made it clear that I will fight this to prove my innocence. So yeah, I'm pretty much denying every last bit of charges."
Federal prosecutors on Tuesday unveiled a fresh round of charges against Santos, called a superseding indictment, that brings the total number of counts against him to 23. This indictment is wider in scope and provides new and damaging details about Santos' alleged efforts to personally profit through his campaign, including allegations that he stole donors' identities and made fraudulent charges on their credit cards to the tune of thousands of dollars. Federal prosecutors also alleged he embezzled cash from his company and conspired with his former campaign treasurer to falsify donation totals.
Santos on Wednesday insisted he won't accept any plea deal as he pushed back – sometimes with profanity – against the charges in the indictment.
"The No. 1 question you all ask me is, 'Are you going to take a plea deal?' No. The answer is, I will not take a plea deal," Santos said, adding that he thinks the campaign finances charges are "bullshit."
When pressed by reporters on the array of charges against him, Santos claimed he didn't defraud any donors or fake fundraising goals and said he did not embezzle money from the campaign.
On the specific charges currently arrayed against him in federal court, Santos claimed he had no clue who was racking up fraudulent credit card charges and acknowledged that he may have received more in unemployment benefits than he should have.
"I never actually I never transacted a single finance procedure in the campaign. That's why you pay treasurers and fundraisers and financial advisers for a campaign. That's why you have these hefty campaign expenses. Why would in God's green earth I even handle a credit card? It was just not the case," Santos said, adding that he has no idea who made the fraudulent charges.
In an indictment earlier this year, the government charged Santos in taking part in an unemployment insurance scheme that resulted in him receiving more than $24,000 in unemployment benefits. But Santos on Wednesday downplayed the charge, saying he may have received an extra check or two and could prove that.
"Even if I were to have taken two checks too many, let's make it very clear, nobody in this country gets indicted for taking a check, or two more than they are entitled to, during (an) unemployment period or in that case, in the completely extenuating circumstances of the pandemic. You don't indict people for that, because if you were going to indict every single American who got overpaid by unemployment benefits during the pandemic, you'd pretty much indict half the country at this point. So, you know, this is a $1,100 indictment that I can easily write that check and make the government whole," he said.
In May, Santos, 35, pleaded not guilty to 13 federal charges. Those initial charges included seven counts of wire fraud, three counts of money laundering, one count of theft of public funds and two counts of making materially false statements to the US House of Representatives.
Elected last year to represent a district that includes parts of Long Island and Queens, Santos has been under investigation in multiple jurisdictions and by the House Ethics Committee. The congressman has admitted to making some misleading claims about his education and financial status but continues to deny the more serious allegations. He has not admitted any crimes.
He announced in April that he will seek reelection in 2024 to represent New York's 3rd Congressional District, which will likely be competitive turf next year. President Joe Biden would have won the district by about 8 points in 2020 under redrawn lines.
Democratic former Rep. Tom Suozzi, who left Congress for an unsuccessful 2022 gubernatorial bid, announced earlier Tuesday that he's running for his old seat.
"The madness in Washington, DC, and the absurdity of George Santos remaining in the United States Congress is obvious to everyone," he said in a statement on social media.