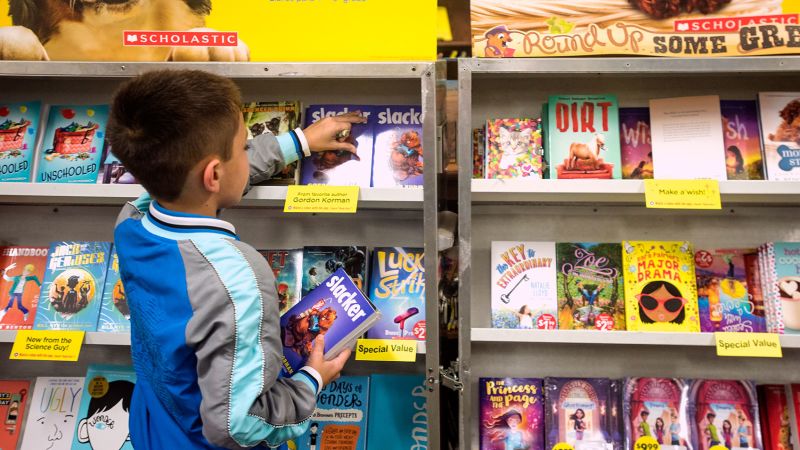 Elementary schools can choose to exclude certain books with content related to racism and LGBTQ identities when hosting this year's Scholastic book fairs, the children's book publisher said.
The decision was made in response to dozens of state laws and pending legislation across the United States that target LGBTQ titles and books that discuss racism, the company said in a statement late last week.
Scholastic created a collection of 64 titles known as "Share Every Story, Celebrate Every Voice" that includes "titles we support even as they are the most likely to be restricted," a company spokesperson told CNN.
Schools can choose to exclude the collection when hosting a book fair, display it when families shop together or order individual titles, the spokesperson said.
A list of the full book selection for elementary schools provided to CNN by Scholastic shows the company is offering a number of titles featuring characters of color or written by authors of color outside of the new, optional collection.
The separate collection includes titles addressing Black and Latino history, the biographies of Supreme Court Justice Ketanji Brown Jackson, former NFL quarterback Colin Kaepernick, boxing legend Muhammad Ali and NBA superstar LeBron James.
Scholastic said the change to their book fair offerings is not a perfect solution "but the other option would be to not offer these books at all – which is not something we'd consider."
"These laws create an almost impossible dilemma: back away from these titles or risk making teachers, librarians and volunteers vulnerable to being fired, sued, or prosecuted," Scholastic said. "We cannot make a decision for our school partners around what risks they are willing to take."
Schools in every state have ordered the new collection with some displaying the titles during parent night, a Scholastic spokesperson told CNN.
Some book titles in the optional collection are about issues related to immigration and class such as "Efrén Divided" by Ernesto Cisneros and "Refugee" by Alan Gratz. Others are about historic events like "Because of You, John Lewis," by Andrea Davis Pinkney, which discusses the role of the civil rights leader in the 1965 march from Selma to Montgomery, Alabama.
PEN America, the literary and free expression advocacy organization, said in a statement Scholastic's decision is an example of how booksellers, teachers and librarians in the US "are being forced to play defense in a war against books" but called on the publisher to "explore other solutions."
"What we understand was conceived as a practical adaptation to keep book fairs going in a fraught legal and political climate is clearly at risk of being twisted to accomplish censorious ends," PEN America's statement said.
Earlier this month, Scholastic signed an open letter alongside PEN America, several book publishers and educational advocacy groups opposing book bans.