Sebastian Maniscalco is changing the Italian American stereotypes in movies with his new comedy About My Father.
The stand-up comic co-wrote and stars in the new family comedy, which is loosely based on his own life. Drawing on his own experiences as a second-generation Italian American, his onscreen father is played by Robert De Niro. He hopes About My Father shows that Italians are "much more" than the "mob" representation we usually see in movies.
Maniscalco makes his screenwriting debut, along with Austen Earl, with About My Father. Despite his foray into writing, he says the ongoing Writers Guild of America strike isn't affecting his day job.
"It doesn't pertain to live performance, so it hasn't affected me as a stand-up comedian one bit," Maniscalco told Newsweek hours before he went to perform stand-up at the Comedy Store in Los Angeles. "So yeah, stand-up comedy is thriving."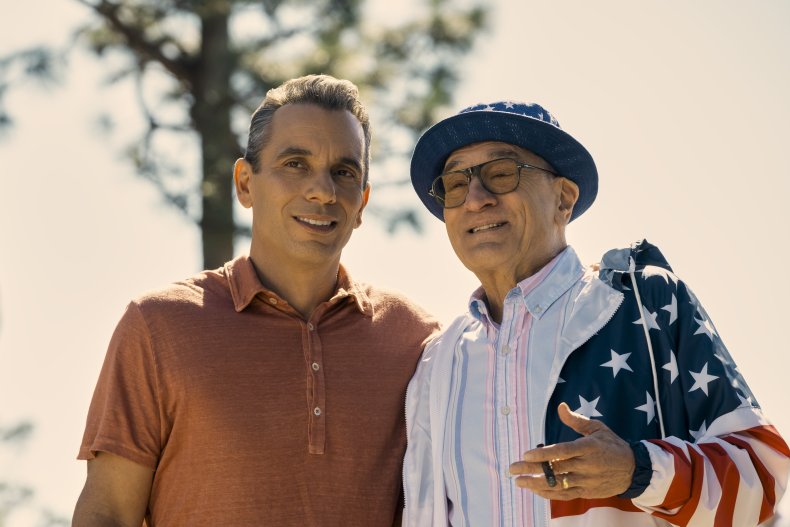 Ahead of the movie's launch on Friday, May 26, Maniscalco spoke to Newsweek about his own father's reaction to seeing De Niro play him in a movie, and chest-bumping Kim Cattrall.
An Italian American Family Comedy
The Godfather, Goodfellas, The Sopranos, and Boardwalk Empire—just some of the movies and TV shows that might come to mind when you think about Italian Americans onscreen.
Maniscalco and About My Father are challenging the mob narrative that has become synonymous with the nationality. The change in reputation was unintentional on his part though.
When asked about this, the filmmaker told Newsweek: "I've never really thought about this movie shedding a positive light on Italian Americans that we typically don't see in cinema to your point in regards to 'it's always mob-related killing' and all this. I just think Italians are obviously much more than all that."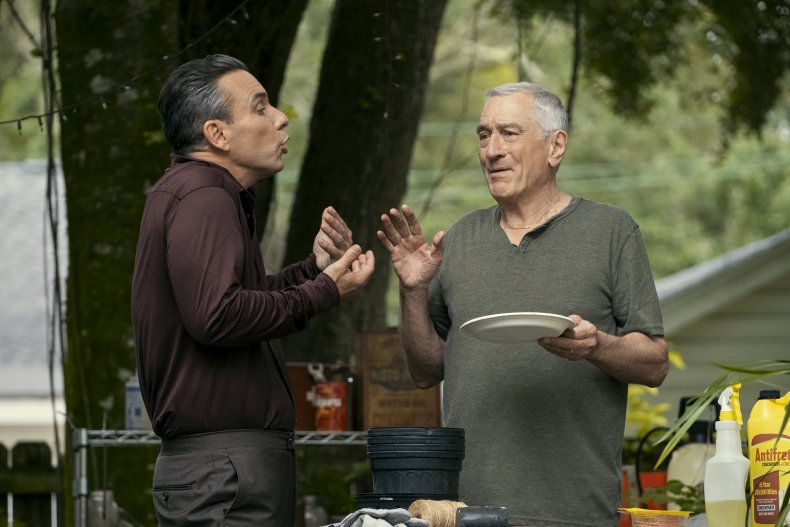 He continued, "In this movie, it's the life I grew up in, with an immigrant father who instilled this work ethic in me and brought that old world, old school mentality from a small town in Sicily to the United States. So it actually feels really good to have this type of representation in regards to the Italian community as a piece of our culture, and how we grew up as opposed to what we normally see in the mob."
"And listen, we all love the mob movies. They're fun to watch. But, for me, to have this as a piece of what Italians are all about, which is pretty much 'family', I feel proud of it," he said.
That's not to say the stereotype isn't addressed with humor in the film itself. The trailer shows the character of Sebastian and his father burying the body of a peacock at his in-laws' family estate.
Robert De Niro
Maniscalco and the team behind About My Father scored a legendary actor to portray the titular patriarch. The comedian first met De Niro on the set of Scorsese's movie The Irishman where Maniscalco played "Crazy" Joe Gallo.
"I had such high anxiety doing that film because I'm working with arguably some of the best people that have ever done it—Scorsese, [Joe] Pesci, De Niro. But I definitely felt accepted.
"The first day I did the first scene with De Niro and Pesci, they were extremely helpful. I think they were aware of my nerves, and those were soon quelled right when I met them on set."
This collaboration eventually led to Maniscalco casting De Niro to play his father Salvo Maniscalco in his comedy. Behind the scenes, the pair have developed a mentor/mentee relationship.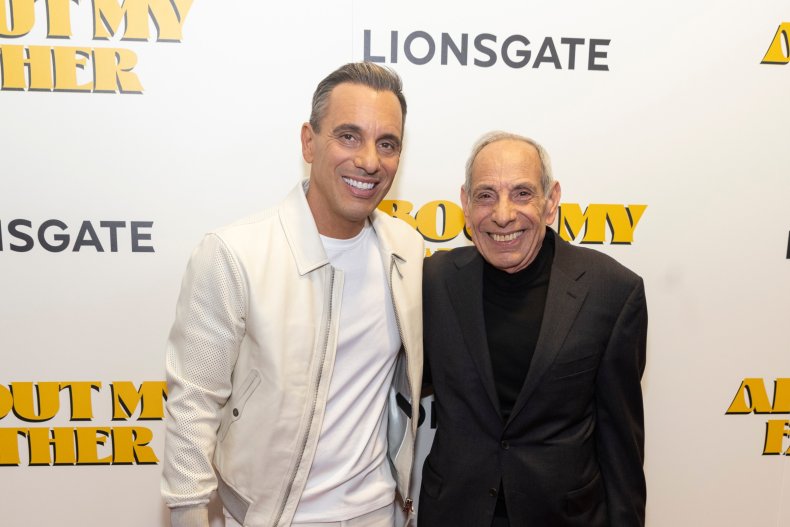 "I learned a lot just being around him in the 10 weeks that we shot in Alabama—how he behaves as an actor, the little things he does on set. I'd definitely call him a friend. He's a man of few words, but being around him in a professional environment, you can't measure what it did for my confidence as an actor. After working with one of the best, I now have the ability to handle myself in any situation."
Sebastian's real-life father, Salvatore Maniscalco, has now seen himself portrayed in film by the Oscar-winning De Niro. Salvatore has joined his son on the press tour and was present at the Chicago premiere of the movie earlier in May.
"I think he was emotional. I can't really explain what he was going through while watching the movie," Maniscalco said. "It's gotta be surreal for him to see Robert De Niro playing him. We grew up watching De Niro in all these different films, and then here we are, and he's in a movie with me, and he's playing my dad. I think my dad was definitely touched by it all."
Kim Cattrall As the Mother-in-Law
About My Father sees the characters of Sebastian and Salvo head to the luxurious house of Sebastian's girlfriend, Ellie, played by Leslie Bibb.
There we meet her parents, Bill and Tigger, played by David Rasche (Succession) and Kim Cattrall.
Maniscalco admits his mother-in-law was flattered that Cattrall was cast to play the character's potential in-law.
"The movie has hints of truth in it. Kim didn't talk to my mother-in-law to get an essence of who she was. The family just represents the kind of wealthy environment that my wife came from."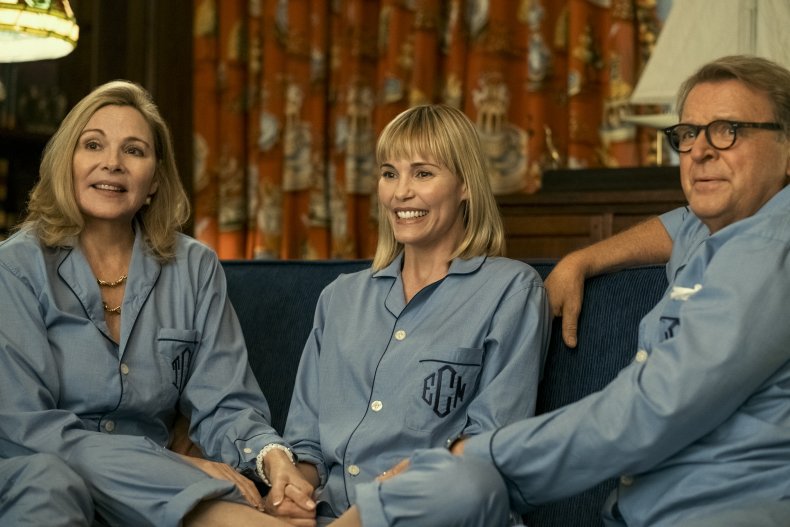 Hijinx ensues at the family home, as the Italian American men feel like fish out of water in their ultra-posh surroundings. During a competitive tennis scene, Sebastian and Tigger are paired together, and the celebrations got momentarily awkward.
"I think we did two chest bumps, and that's all we needed. It felt very organic and very natural for us to give each other a chest bump," Maniscalco chuckled. "I mean, if you would have told me I'd be chest-bumping Kim Cattrall in a movie 10 years ago, I would have told you, 'You're crazy.'
"I came out to Los Angeles in 1998, just to do stand-up comedy for a living and everything else that's happened on top of that has been gravy. So you know, this is one of these experiences that I'm actually kind of slowing down and really enjoying," Maniscalco said.
About My Father is out in movie theaters on Friday, May 26, 2023.