Editor's Note: Sign up to CNN Travel's Unlocking Italy newsletter for insider intel on Italy's best loved destinations and lesser-known regions to plan your ultimate trip. Plus, we'll get you in the mood before you go with movie suggestions, reading lists and recipes from Stanley Tucci.
The "best hotel in the world" was built by a pope and was regularly visited by one of Italy's most famous opera composers. Napoleon Bonaparte and Winston Churchill have stayed and walked through the grounds. Passalacqua, you could say, was always destined for big things.
On 19 September in London at the inaugural World's 50 Best Hotels, the hotel on Lake Como was named number one. The judges – a team of industry experts – chose to go with this 24-suite family-owned property instead of one run by a major brand.
There are thousands of luxury hotels across the globe but only one Passalacqua. It feels almost even redundant referring to it as a hotel, because it's so much more. It pays homage to another time and place, and – through an extraordinary, indulgent voyage – takes you there.
Silvio Vettorello, general manager, attributes the win to three unique attributes. "Meraviglia [amazement]: that sense of awe you feel in a place that is everything you imagined and yet still manages to amaze and astonish you. Storia [history]: the history of an 18th century mansion that – even with echoes of a past era – makes you so easily feel at home. And famiglia [family] – in every sense, but particularly one that comprises the 100 incredible humans that every day go above and beyond to make magic for our guests, making sure every dream comes true – theirs and ours."
How to build a world-class hotel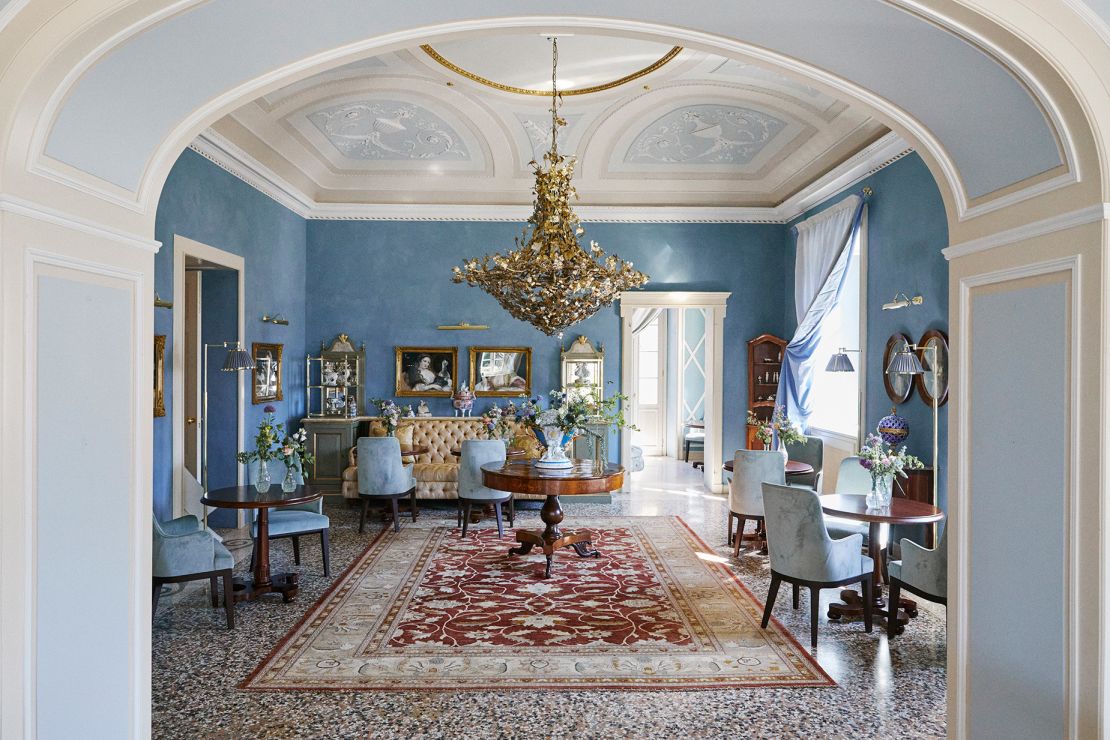 Passalacqua threw open its doors in 2022 after a three-year restoration. The owners, the local De Santis family, are no strangers to luxury hospitality – they own the Grand Hotel Tremezzo also on Como, known for its lake-floating pool. Owners Antonella Mallone and Paolo De Santis handed over to their 41 year old daughter, Valentina De Santis, to open the property. The CEO of their company, Valentina, who was responsible for bringing it back to its former glory.
She says every single detail is close to her heart. Like the precious marbles hailing from Carrara and Verona, spectacular chandeliers from Murano's Barovier & Toso (not least the breathtaking one hanging in the music room), Venetian mirrors and the plush Beltrami wood fiber bed linens.
There are seven acres of lake-facing terraced gardens, meticulously manicured and complete with a calming soundtrack of water fountains. Guests spend their time out here having a drink, partaking in yoga or lounging by the pool decked out in vibrant vintage prints from Milanese brand La Double J.
De Santis says, "Passalacqua has a storied and rich history and is a one of a kind experience that evokes another time."
It holds many a secret, too.
"As you pass through the front gates, you enter a different world – one you may not want to leave," she says.
"It is tranquil and private, yet steps away from the bustling village of Moltrasio. Opening doors and exploring passages you are led to magnificent rooms and centuries-old views of Lake Como. You have lushly painted ceilings with clouds full of gods and goddesses looking down at you. But one of the most delightful surprises are the underground stone-lined tunnels that lead from the villa down to the lake. The tunnels are full of mystery and intrigue."
What it's like to be there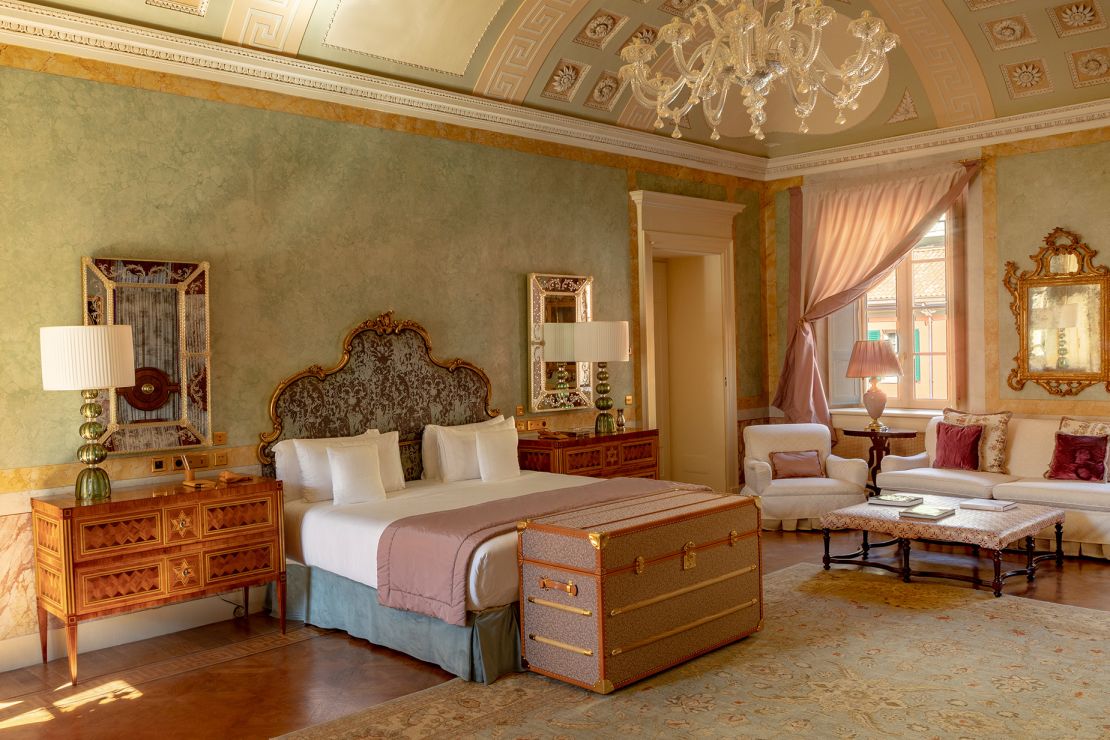 Standing in the majestic gardens and looking out to the lake, it's not hard to imagine the Moltrasio of yesterday – Especially once the sun sets and the glittering garden lights turn on. It was in 1787 that Count Passalacqua – from a local noble family – acquired the villa. With regular scenes of carriages coming and going and concerts playing into the night, it fast became a grand playground for the aristocracy. Just like the count, the De Santis family saw something beyond special, almost magical in these grounds.
In 1837, Vincenzo Bellini – a regular visitor to the villa – composed his opera "La Sonnambula" (The Sleepwalker), a tormented story of unrequited desires and sleepwalking while in residence. You can't help but wonder what went on behind these old walls. They make you feel the weight of history, and on a breezy day, it's almost as though you can hear echoes of Bellini's melodies.
That's the spell of Passalacqua – through the present, it provokes thought and connects you to another place, another time.
From check in to check out, the hotel strives to put on a feast for the senses. Local experiences can be arranged by the concierge, hand cut bouquets of flowers just seem to appear, meditation and massages are always an option and there's a culinary program headed by chef Alessandro Rinaldi that celebrates Italian classics.
The kitchen is open for guests to linger in and out throughout the day to grab a snack or to get involved in baking or cooking. And there's so much more.
De Santis can speak of the splendors of the villa at length. While quick to assure that every hour of the day here is special, she admits that for her nothing beats early morning.
"It's when breakfast is served in the style of a big Italian country house in the summer. That great smell of coffee as you walk into the kitchen, mingling with the heady scent of a marmalade crostata [like a giant jam tart] fresh out of the oven.
"A glass of freshly squeezed orange juice, a meter-high cake stand piled high with granita and cream-filled maritozzo buns. Plus, chef is on hand to prepare whatever you fancy – like sunny-side-up eggs which were laid by our hens that morning. It's the perfect start to a perfect day."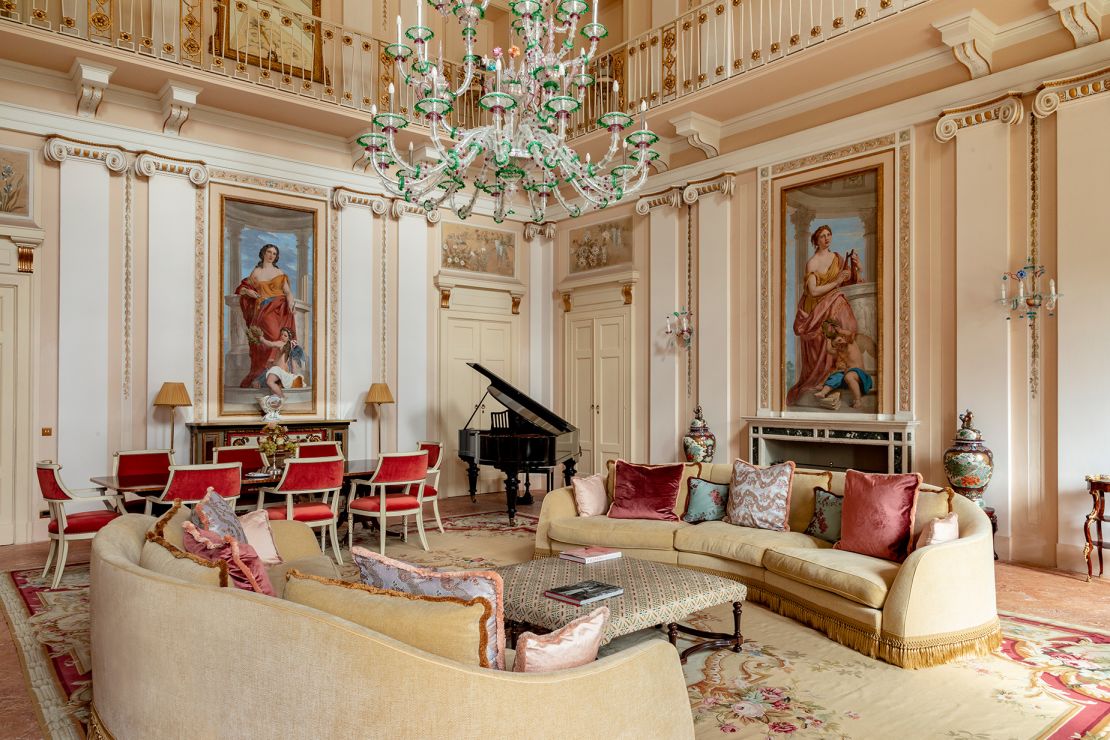 And what would a hotel be without its guests? Vettorello says that the thing they love most about their stay is the sense of villeggiatura. The Italian word translates as a vacation in a rural location. But it means so much more than that. It's the essence of dreamy escapism and the age-old practice of getting away from the hustle and bustle of everyday life for a more tranquil setting. Picture "Bridgerton" or a Jane Austen novel, but in Italy.
Instead of the Scottish Highlands or the Yorkshire Moors, you have Lake Como and its elegant gardens. Instead of a horse-drawn carriage, you have horsepower of a different kind, in the form of vintage orange Italian Jeeps. Tea is swapped for a Campari soda or a negroni sbagliato. And instead of scones and jam, you have the abundance of the Italian aperitivo.
It's a feeling that is intrinsically and quintessentially Italian – the guilt-free pleasure of taking time out, escaping the city and finding peace with nature. Think, la dolce vita, but better! And the team at Passalacqua have done an outstanding job at reviving this ancient and affluent art.
Passalacqua didn't invent the term villeggiatura, but her every detail embodies it – a romantic 18th century villa turned faultless luxury hotel where you come to exhale and leave your worries behind.
Of course, all this luxury comes at a price. Rooms without a lake view start at 1,300 euros ($1,381) per night or 1,700 euros ($1,806) for a view in November – lowest season. Next summer, rates rise to 2,300 euros ($2,443) for a standard room without a lake view, or 3,200 ($3,400) for the cheapest room with a view. Suites start at around $5,000 per night. Luckily, prices include breakfast.
Asked what the property has in particular that no other place in the world does and Valentina says, "It's a place of wonders created from the heart."
Maria Pasquale is an award-winning Italian-Australian food and travel journalist based in Rome. Author of "I Heart Rome," "How to be Italian" and "The Eternal City: Recipes & Stories from Rome," her adventures can be followed on Instagram @heartrome