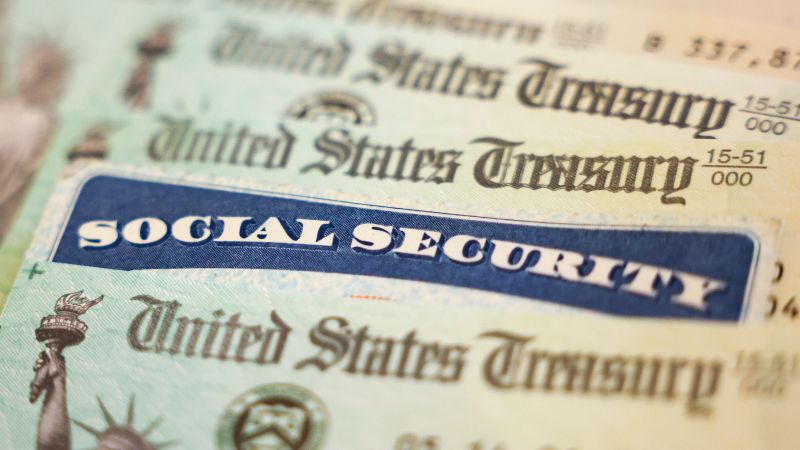 Social Security recipients will receive an annual cost-of-living adjustment of 3.2% for 2024, a much smaller increase than the inflation-fueled boosts of the past two years, the Social Security Administration announced Thursday.
Retirees' monthly payments will rise by $59 to an estimated average of $1,907, starting in January.
The lower adjustment reflects the fact that inflation has moderated this year. Recipients had received increases of 8.7% for 2023 and 5.9% for last year, which were the largest since the early 1980s.
"It's a small amount, but it's providing some cushion," said Mary Johnson, Social Security policy analyst at The Senior Citizens League, an advocacy group. "We have the hope that things are going to be more affordable."
The boost remains well above the average over the past two decades, which is 2.6%, she said. The annual adjustment is based on an inflation metric from August through October, which has cooled after being around four-decade highs a year ago.
A related metric, the Consumer Price Index, increased 3.7% in September, compared with a year ago, the Bureau of Labor Statistics announced Thursday.
Still, while the rate of increase has slowed, prices remain high.
Still struggling
Though the annual adjustment is aimed at helping the more than 71 million recipients who receive Social Security and Supplemental Security Income benefits contend with rising prices, benefits haven't actually kept pace for years. Many older Americans rely heavily on their monthly payments to cover their living expenses.
Inflation has caused Social Security payments to lose 36% of their buying power since 2000, according to a study released earlier this year by The Senior Citizens League. Monthly benefits would have to increase by $517 to maintain the same level of buying power as in 2000.
Tom and Susan Freyer of Palmdale, California, are feeling the pinch. The couple, who depend largely on Social Security and her small teacher's pension, were able to set aside enough funds five years ago to celebrate their anniversary with a weekend in Newport Beach. That's out of the question this year.
"That money's gone," said Tom Freyer, 72, who worked in advertising. "That money goes in the gas tank. It goes to the grocery bill."
The 8.7% boost in their monthly benefits for this year helped, but it is not enough to cover the higher cost of medicine and homeowners' association fees, in addition to gas and groceries. Tom Freyer has taken up writing screenplays in hopes of earning some extra bucks, though the recent writers' strike put his efforts on hold temporarily. If he's not able to sell one soon, he thinks he'll have to get a job.
"If we got hit with some disaster, another medical emergency or my daughter in a crisis or something like that, we'd be creamed," said Freyer, who until recently was battling cancer.
Some advocates would like to see the annual benefit increase tied to an experimental index that measures inflation experienced by the elderly, rather than the current metric, which reflects price changes for urban wage earners and clerical workers. The former puts more weight on cost increases for health care, which makes up a much larger share of seniors' spending.
Nancy Portz, a widow who lives in Sun City Center, Florida, agrees. As she ages, her health has deteriorated, leaving her with more medical bills.
"It's really hard to plan for that unless you're financially very well off," said Portz, 74, a retired special education teacher and attorney who represented victims of child abuse. "In this country, it's shameful that we pay so much for medicine and medical care."
Those expenses eat away at her monthly Social Security payment, making it harder for her to afford other necessities, including food. A vegetarian, she was shocked to recently find that a single red bell pepper cost $2.
"If you want to buy healthy food, it's a fortune now," said Portz, who has also seen her electric bill more than triple and her water bill roughly double since 2016, when she bought her small house in the retirement community. "It just seems to be going up and up and up."
Social Security recipients also have to factor in their Medicare Part B premiums, which are automatically deducted from their monthly benefits. The Centers for Medicare and Medicaid Services has yet to announce the premiums for 2024.
This year, the standard monthly premiums are $164.90, a decrease of $5.20 from 2022, which saw a large spike in premiums.
The downside to large increases
Hefty annual benefit increases could end up hurting some senior citizens because it could push them above the thresholds for certain government assistance programs, such as food stamps, Medicaid and rental assistance. "Significant numbers" of lower-income elderly Americans have lost access to some of these safety net programs over the last year, according to surveys conducted by The Senior Citizens League.
Carl Brown, 70, who lives in public housing in New York City, knows that all too well. His rent is tied to his income and is going up $74 a month starting in November because of the increase in his Social Security benefit. It will leave him struggling even more to pay his medical and grocery bills, as well as the higher interest rate on his credit card debt.
He doesn't think the adjustment for 2024 will help too much.
"My income doesn't leave me much after paying bills and buying groceries," said Brown, who worked as a customer service representative and is divorced. "I don't know if I'll ever have enough."
This story has been updated with additional reporting.