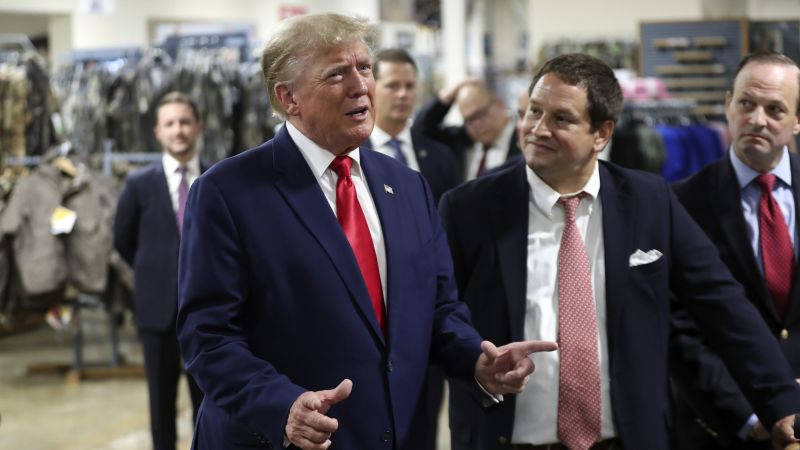 Federal prosecutors have told a federal judge that if Donald Trump had bought a gun earlier this week during a campaign stop, he would be violating his release conditions as a criminal defendant and breaking the law, according to a Friday court filing.
A campaign spokesman for Trump had posted on social media that Trump bought a Glock in South Carolina on Monday, then removed the post and clarified to CNN the former president hadn't purchased the firearm.
Prosecutors pointed to the moment, as well as the former president's recent attacks on departing Joint Chiefs Chairman Gen. Mark Milley, in asking a federal judge to place more restrictions on Trump, particularly on what he can say, as he awaits trial in Washington, DC, on federal charges of 2020 election interference.
"The defendant either purchased a gun in violation of the law and his conditions of release, or seeks to benefit from his supporters' mistaken belief that he did so," the prosecutors wrote on Friday. "It would be a separate federal crime, and thus a violation of the defendant's conditions of release, for him to purchase a gun while this felony indictment is pending."
The prosecutors note that Trump re-posted a video asserting he bought the weapon, and that a video shows him with the gun.
"The defendant should not be permitted to obtain the benefits of his incendiary public statements and then avoid accountability by having others—whose messages he knows will receive markedly less attention than his own—feign retraction," the prosecutors argue.
The gun discussion catching prosecutors' attention doesn't mean Trump will be charged with any additional crimes. Yet if the judge were to look into violations of his release and find he broke his bail terms, Trump could face consequences including having to await his trial in jail.
Prosecutors raise Trump's recent attacks on Milley

In the filing, prosecutors say Trump continues to make remarks that could hurt the integrity of his trial, including in how he has recently attacked Milley.
Prosecutors told the judge in their filing they believe Trump suggested Milley committed treason and should be executed, in a social media post Trump made on September 22.
"This is an act so egregious that, in times gone by, the punishment would have been DEATH," the former president had written about Milley speaking with a Chinese general near the end of Trump's term, the prosecutors noted.
The judge is set to consider the prosecutors' request for a limited gag order at a hearing October 16.
Trump's team opposes the request, arguing in a court filing earlier this week that the proposed order is unconstitutional, overly broad and an effort to censor the former president during the 2024 presidential race.
The Milley comment is just one of several recent remarks from Trump that prosecutors are using to further their arguments for speech restrictions to protect possible jurors' perceptions of witnesses and others involved in the case against Trump.
Since prosecutors asked Washington, DC-based Judge Tanya Chutkan for a limited gag order for the former president a few weeks ago, Trump has continued making statements "that pose a substantial likelihood of material prejudice to this case," particularly during a recent NBC interview, according to the court filing from special counsel's office prosecutors Friday night.
In Trump's appearance on NBC's "Meet the Press," prosecutors take issue with Trump misrepresenting the statements of a Georgia official about him, and criticizing his then-Attorney General Bill Barr for his opposition to Trump after the election.
RELATED: Fact check: 14 of Trump's false claims on 'Meet the Press'
They also highlight Trump's social media posts in early December where he was sarcastic about Chutkan's fairness, called the special counsel's office "Really corrupt!" and prosecutors on the team "Lunatics," and said that his former Vice President Mike Pence, a key witness in the case, went to the "Dark Side."
"In the defendant's opposition—premised on inapplicable caselaw and false claims—he demands special treatment, asserting that because he is a political candidate, he should have free rein to publicly intimidate witnesses and malign the Court, citizens of this District, and prosecutors. But in this case, Donald J. Trump is a criminal defendant like any other," the prosecutors write. They are asking for Chutkan to limit Trump's ability to speak about witnesses and others involved in the case against him.
The prosecutors also said a limited gag order, as they propose, wouldn't be a "contempt trap" as Trump's team has said. Instead, it would be an even more limited speech restriction than others granted previously in high-profile, politically charged cases in DC's federal court, the prosecutors argued.