Taiwan's Foxconn says it plans to build artificial intelligence (AI) data factories with technology from American chip giant Nvidia, as the electronics maker ramps up efforts to become a major global player in electric car manufacturing.
Foxconn Chairman Young Liu and Nvidia CEO Jensen Huang jointly announced the plans on Wednesday in Taipei. The duo said the new facilities using Nvidia's chips and software will enable Foxconn to better utilize AI in its electric vehicles (EV).
"We are at the beginning of a new computing revolution," Huang said. "This is the beginning of a brand new way of doing software — using computers to write software that no humans can."
Large computing systems powered by advanced chips will be able to develop software platforms for the next generation of EVs by learning from everyday interactions, they said.
"Foxconn is turning from a manufacturing service company into a platform solution company," Liu said. "In three short years, Foxconn has displayed a remarkable range of high-end sedan, passenger crossover, SUV, compact pick-up, commercial bus and commercial van."
Best known as the assembler of Apple's iPhones, Foxconn envisages a similar business model for EVs. It doesn't sell the vehicles under its own brand. Instead, it will build them for clients in Taiwan and globally.
In 2021, Foxconn unveiled three EV models, including two passenger cars and a bus, for the first time. They were followed by additional models last year and two new ones — Model N, a cargo van, and Model B, a compact SUV — during Foxconn's tech day on Wednesday.
Its electric buses started running in the southern Taiwanese city of Kaohsiung last year, while its first electric car, sold under the N7 brand by Taiwanese automaker Luxgen, is expected to begin deliveries on the island from January 2024.
Foxconn has entered a competitive industry.
Global sales of EVs, including purely battery powered vehicles and hybrids, exceeded 10 million units last year, up 55% from 2021, according to the International Energy Agency. Nearly 14 million electric cars will be sold in 2023, it projected.
Beyond iPhones

Foxconn, which is officially known as the Hon Hai Technology Group, has been expanding its business by entering new industries such as EVs, digital health and robotics.
Analysts say its entry into the EV space is a "logical diversification."
Smartphones are "a very saturated market already, and the room to grow in the … industry is getting [smaller]," said Kylie Huang, a Taipei-based analyst at Daiwa. "If they can really tap into the EV business, I do think that [they] could become influential in the next couple of years."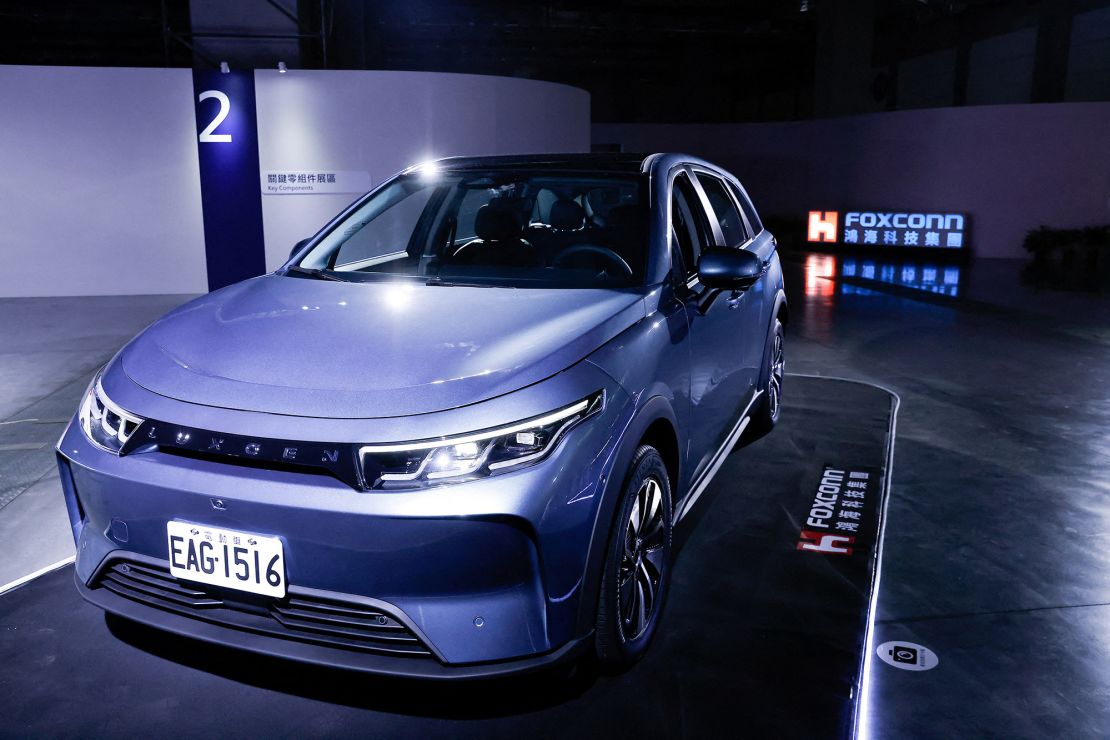 During last year's tech day, Liu told reporters that the company hoped to build 5% of the world's electric cars by 2025. It aims to eventually produce up to 40% to 45% of EVs around the world.
But its foray into the industry hasn't been entirely smooth.
Last year, Foxconn bought a factory from Lordstown Motors in Ohio that used to make small cars for General Motors. That partnership ended in June, with the American car company filing for bankruptcy protection and announcing a lawsuit against Foxconn.
Lordstown Motors accused Foxconn of "fraud" and failing to follow through on investment promises, while Foxconn dismissed the suit as "meritless" and criticized the company for making "false comments and malicious attacks."
Major steps

Still, it's clear Foxconn is leaning into its expanded ambitions, including hiring two new chief strategy officers for its EV and chips businesses.
Chiang Shang-yi is a Taiwanese semiconductor industry veteran who helped TSMC become a global foundry powerhouse, while Jun Seki, a former vice chief operating officer at Nissan Motor, leads the EV unit.
In May, Foxconn announced a new partnership with Infineon Technologies, a German company that specializes in automotive semiconductor chips, to establish a new research center in Taiwan.
Bill Russo, founder of Shanghai-based consulting firm Automobility, said Foxconn has the advantage of coming from a consumer electronics background, which could allow it to come up with more innovative EV products compared with traditional automakers.
"The biggest problem with legacy automakers is that they have so much sunk investment in a carryover platform, that they typically want to start not with a clean sheet of paper, but with a highly constrained set of requirements," he said. "Those carryover technologies bring constraints to how you think about vehicles."
"When Tesla started, it started by saying, 'I'm going to challenge all of that, I'm going to blow up the basic architecture of a car and simplify it greatly,'" he added.
"I think that's the advantage that a technology company has … And I think that's the way Foxconn will come at this."
Hanna Ziady contributed to this report.