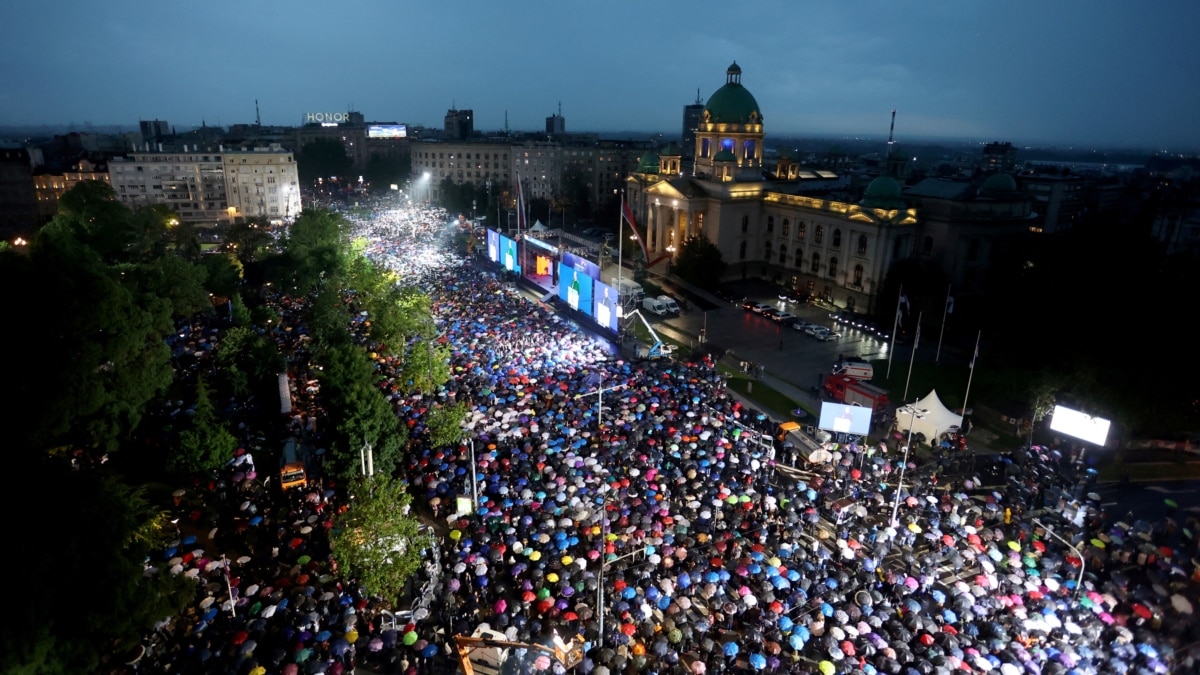 The European Union's former high representative for foreign affairs and security policy, Catherine Ashton, has defended the bloc's initial response after Russia occupied Crimea in 2014, but acknowledged "we did not know then what we know now" and said subsequent policy did not sufficiently prioritize "what was happening in Ukraine."
She also urged Balkan neighbors Serbia and Kosovo to "get round the table and find answers" to lingering differences preventing normalized relations between Belgrade and Pristina, a full decade after the so-called Brussels agreement that she helped forge.
In an exclusive interview with RFE/RL's Balkan Service, Ashton underscored the Western Balkan countries' eventual suitability for EU membership and the added challenge of Russian engagement in the region.
"We were always aware of Russia's influence and engagement in the Western Balkans," she said. "The events in Ukraine have brought that more into view."
Ashton was the EU's first-ever high representative, serving as the bloc's chief foreign and security policy coordinator and envoy from 2009-14.
Russia covertly occupied the Crimean Peninsula and annexed it in 2014 in a move overwhelmingly rejected by the United Nations, and a simmering conflict waged by Russia-backed separatists in eastern Ukraine escalated into a full-scale Russian invasion in February 2022.
The European Union and the United States led a sanctions push particularly after the downing of a Malaysian airliner over eastern Ukraine in July 2014 to punish Russia, the ruble, and perceived proxy fighters in Ukraine.
But critics have accused the West of underestimating the threat to international order and UN-recognized borders for years from Russian President Vladimir Putin, particularly in what Moscow regards as its "near abroad."
"We did react at the time, imposing sanctions on Russia and trying to get negotiations moving," Ashton said. "Hindsight is always difficult. We did not know then what we know now; however, in the intervening years, what was happening in Ukraine was not as high on the agenda as it should have been, in my opinion."
Ashton published her memoirs — titled And Then What? Inside Stories Of 21st-Century Diplomacy — in February.
Speaking to RFE/RL, she drew a sharp distinction between "the challenge of China," which has grown considerably for European policymakers, and the situation with Russia.
Chinese President Xi Jinping asserted a "no-limits" partnership with Russia weeks before Russia's all-out invasion of Ukraine in 2022, and Beijing has urged peace but declined to directly criticize Moscow publicly.
"I hope that we will see more effort put into developing a strategic approach to China that recognizes the connections and the concerns," Ashton said. "I recall that China played a role with the rest of the P5+1 in the Iran [nuclear] negotiations, and my hope would be that China would seek to play a positive role in the multilateral system we need to take care of."
In the former Yugoslavia, Ashton was essential to an apparent breakthrough in Brussels in 2013 that provided a road map toward normalized relations between Serbia and its majority ethnic Albanian former province, Kosovo, which declared independence in 2008.
A decade later, Belgrade still refuses to recognize Kosovar sovereignty while blocking its membership in international institutions.
Serbia's populist President Aleksandar Vucic has leveraged regional might to pursue closer relations with Moscow and Beijing, and outsiders accuse him of increasingly authoritarian leadership that damages Serbians' desire for EU membership.
Kosovo's prime minister, Albin Kurti, has toughened Pristina's stance on a number of bilateral issues since taking over in 2020, pledging "reciprocity," and is frequently critical of Western attempts at mediation.
Ashton played down a question about Washington and Brussels vying for influence in the Balkans, saying that "it's not about who has more power, it's about the power of working together."
She conceded that "there is concern across the [Balkan] region that the EU is not as enthusiastic as it was once for enlargement. Yet there is no question that the countries of the Western Balkans belong inside the EU."
"But there is a lot to be done by those countries who want to be part of the EU, and some of the lack of enthusiasm is because of the lack of progress being made by those who want to be members," she said. "It is not an easy journey, but a journey well worth making."
Ashton stressed democracy, human rights, and rule of law as central guiding principles and "part of the ongoing dialogue."
Among the lessons of her diplomatic years, Ashton stressed to RFE/RL the need for compromise and good negotiators whose "drip, drip" efforts enable solutions.
"It is not just the role of the EU to push forward with the Western Balkans, it is also down to each country to determine that it will make the changes necessary to deal with all the issues that are necessary to become a member of the EU," she said. "So I hope we will see more done by everyone to address these challenges."