The 60-year-old man arrested in the killing of rapper Tupac Shakur is expected in court Thursday, where he will be arraigned on a murder charge.
Duane Keith Davis, known as "Keffe D," is accused of orchestrating the shooting that cut short the life of Shakur, a 25-year-old trailblazer whose brief, prolific career cemented his legacy as one of the most influential hip-hop artists of all time. His untimely death added a grim layer to that mystique, and for years it had been the subject of conspiracy theories.
Davis is expected to plead not guilty to a charge of murder with use of a deadly weapon in a gang-related homicide stemming from the fatal September 7, 1996, shooting of Shakur, Clark County District Attorney Steve Wolfson said in a news conference after Davis' initial court hearing. Wolfson stressed Davis is presumed innocent until proven otherwise.
Davis appeared in court for the first time two weeks ago, dressed in a Clark County Detention Center jumpsuit. He said his defense attorney needed time to arrange to be present, and District Court Judge Tierra D. Jones opted to delay his arraignment until Thursday.
Shakur's slaying was the subject of a decadeslong investigation by police that culminated this month with Davis' arrest following his indictment by a grand jury. He is the only suspect in the case still alive, police said.
Physical evidence seized at his house and witnesses who have come forward in the last several years are expected to be used in the trial against Davis, Wolfson told CNN's Anderson Cooper.
"We wanted to gather as much supporting evidence as we could. We didn't want to proceed just with his admissions. Certain witnesses came forward in the last couple of years," Wolfson said. "So we felt at this point, when we put it all together, that we had a strong enough case to charge Mr. Davis with murder with use of a deadly weapon with a gang enhancement."
Davis is being held without bail, Wolfson said, and his office intends to continue to ask the judge not to set bail at arraignment.
"We believe under Nevada law and evidence in this case, that the proof is evident," Wolfson told reporters, "and the presumption is great that he will be convicted of first-degree murder and that allows us to ask for a no bail setting."
Edi Faal, Davis' Los Angeles-based personal attorney, declined to comment on the case but indicated he is working to assist his client in obtaining local representation in Nevada.
Investigation was 'reinvigorated' in 2018

For years, Davis has placed himself at the scene of the crime, stating publicly he was in the front seat of a white Cadillac when it pulled up alongside Shakur's car and shots rang out from the back seat. Shakur was shot four times and died six days later.
Authorities have cast Davis as the alleged ringmaster of the plot to kill Shakur, which they contend was retaliation for an attack on Davis' nephew, Orlando Anderson, that stemmed from a broader conflict between two gangs in Compton, California.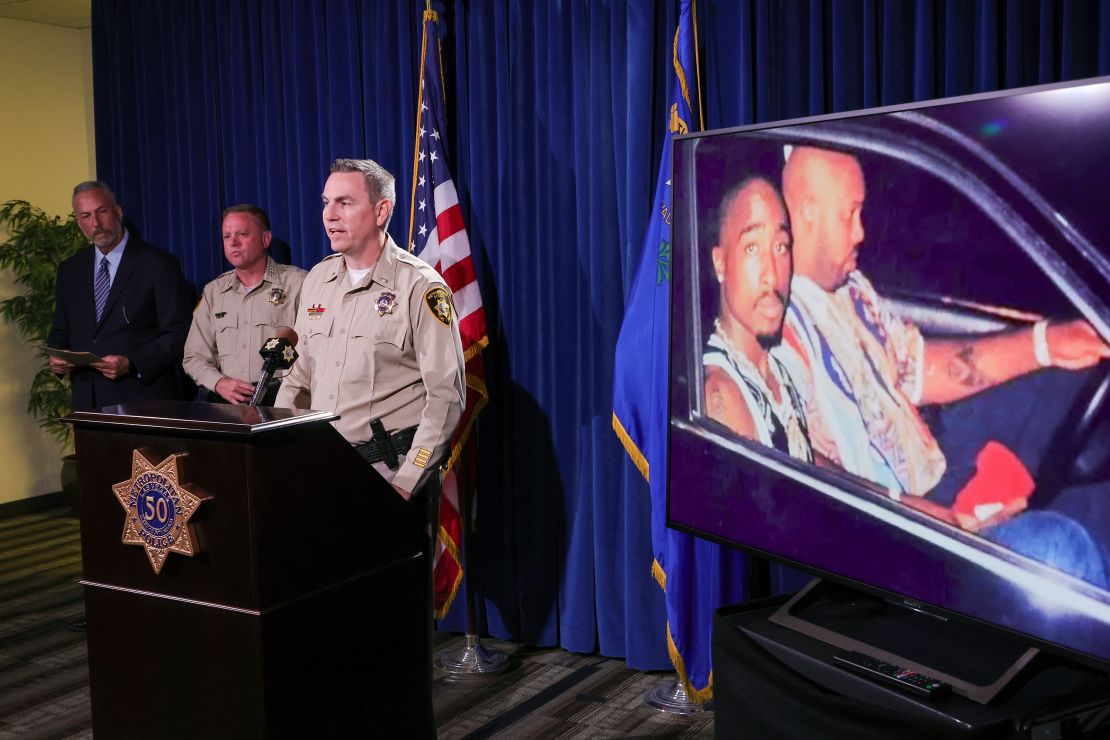 Shakur and Marion "Suge" Knight, then-CEO of Death Row Records, were affiliated with the Mob Piru gang, said Jason Johansson, the homicide lieutenant of the Las Vegas Metropolitan Police Department. Davis and Anderson were affiliated with the Southside Compton Crips, Johansson said.
At the time of the fatal shooting, Shakur was in Las Vegas to see Mike Tyson box at the MGM Grand Hotel, an event that also was attended by Davis and his nephew. While leaving the fight, members of Death Row Records kicked and punched Anderson near an elevator bank inside the MGM, Johansson said, playing surveillance footage that showed Shakur and Knight among the participants.
Afterward, Davis "began to devise a plan to obtain a firearm and retaliate against Suge Knight and Mr. Shakur," Johansson said. Davis got a gun, then got into the white Cadillac with Anderson, Terrence Brown and Deandre Smith, the lieutenant said.
Anderson and Smith were in the back seat, according to a copy of the indictment. And at some point, Davis provided the gun to the back-seat passengers, Johansson said.
Then, someone pulled the trigger – though the indictment doesn't say who. Either way, Davis "was the shot-caller for this group of individuals that committed this crime," Johansson said. "He orchestrated the plan that was carried out to commit this crime."
Anderson denied involvement to CNN before his death in a 1998 gang-related shooting.
Davis confessed to his role in the crime in 2009, but authorities couldn't bring charges due to a proffer agreement – in which a suspect agrees to provide potentially useful information in an investigation that generally cannot be used as evidence against the suspect – a former detective on the case, Greg Kading, told CNN.
The investigation was "reinvigorated" in 2018, Johansson said, in part thanks to "Davis' own admissions to his involvement." Authorities felt it was their last opportunity to solve the case and bring charges, he said.
Police in July searched the Henderson, Nevada, home of Davis' wife, looking for writings or documents related to Shakur's murder, according to an affidavit requesting a search warrant. They seized a copy of Davis' memoir, in which he wrote about street gang life and the shooting of Shakur, describing himself and Knight – in prison on a manslaughter charge in an unrelated case – as the only two living witnesses to the shooting.
CNN's Josh Campbell, Kyung Lah, Zoe Sottile and Sonya Hamasaki contributed to this report.