Tinzert, Atlas Mountains, Morocco
CNN
—
Rajaa Acherhri was known as the village math genius. At six years old, she loved solving problems way above her grade level. He sister Sanaa had big dreams too. She wanted to become a doctor, her mother Fatema told CNN.
After dinner on Friday night, the girls were lounging with their heads together in their family home. Rajaa asleep after a long day at school. Sanaa, 12, playing with her phone.
Suddenly, the ground started shaking violently. Fatema was still tidying up in the kitchen when her house begun collapsing around her. She said she leapt towards her girls, only to see them crushed by part of the ceiling. Both were gone instantly.
She buried them the next day, alongside 19 other people who were killed in Tinzert, a tiny mountain village in the Atlas Mountains in Morocco.
These are among the more than 2,900 people who perished in the disaster, according to state-run broadcaster 2M in the latest death toll, quoting the Moroccan interior ministry.
The quake is also believed to have affected about 100,000 children, according to initial reports, UNICEF said on Monday.
The maps and photos showing the impact of the quake.
The earthquake has reduced Tinzert to one giant pile of rubble. The damage is so bad it is impossible to tell where one home starts and another finishes. The houses here were old, built in the traditional way – of mud and straw. They were not made to withstand an earthquake; they didn't need to be. This area doesn't have earthquakes; there hasn't been one this bad in more than 120 years.
"It took 10 seconds for the whole village to disappear," Hakim Idlhousein told CNN.
His house was sliced in half by the earthquake, left looking like a partially collapsed doll's house. The front is completely gone, while parts of the back are left exposed, including a kitchen cabinet full of supplies that is somehow still standing while everything around it is in ruins.
On Monday afternoon, Idlhousein was having a simple meal with his parents and cousins. Some bread, oil, strong coffee with lots of sugar, laid out a tray outside, on a flat piece of ground where they have been spending their days and nights since the quake. Their house is destroyed and they are afraid of more aftershocks.
A group of neighbors came by, they all hugged and kissed, shared words of comfort and the coffee. With just 300 people, Tinzert is so small that everyone here knows everyone by name. Everyone here lost someone they loved.
The road leading to Tinzert is narrow and steep, and much of the village is now impossible to reach by car.
To get around, the villagers are climbing through the rubble, children helping to carry supplies, hopping from one large piece of debris to another.
After three days of living like this, everyone knows the way around the ruins. The streets no longer exist, they have been replaced by perilous passageways on top of the rubble.
Help has been slow to come and has so far mostly consisted of food and water brought up into the mountains in private cars by volunteers from across Morocco.
Many people are getting increasingly angry and frustrated about the lack of government help. A number of residents told CNN they've lost faith that it would ever come.
Tinzert is in the mountainous Al Haouz province, where villages like these are scattered around the hills. Some 1,500 people have died in the earthquake in this area alone, according to Moroccan authorities.
A Moroccan government official told CNN on Monday that the destroyed mountain roads to villages like Tinzert are making it hard to get aid into the hardest-hit regions.
People there have no choice but to wait.
For 17-year-old AbdelHaq Edabdelah, that wait became unbearable. The pain in his shoulder was too intense to think straight.
The young construction worker was injured when his house in the remote village of Ifghan collapsed. His neighbor Abdeltif Ait Bensoli told CNN Edabdelah's body was completely buried in rubble, with only his head sticking out.
The neighbors managed to pull him out, but his shoulder was twisted and bruised. He was in a lot of pain and there was nobody in the village who knew how to help him. No painkillers, no first aid.
He waited for two days for help to arrive, sleeping outside with the rest of the village. When nobody came, his neighbors made the decision to try to get him to a doctor.
"The road is blocked with rocks. You can't get through in a car, it is impossible," Ait Bensoli said.
Edabdelah lives with his elderly grandparents who couldn't come with him, so it fell to Ait Bensoli to transport the young man to a hospital.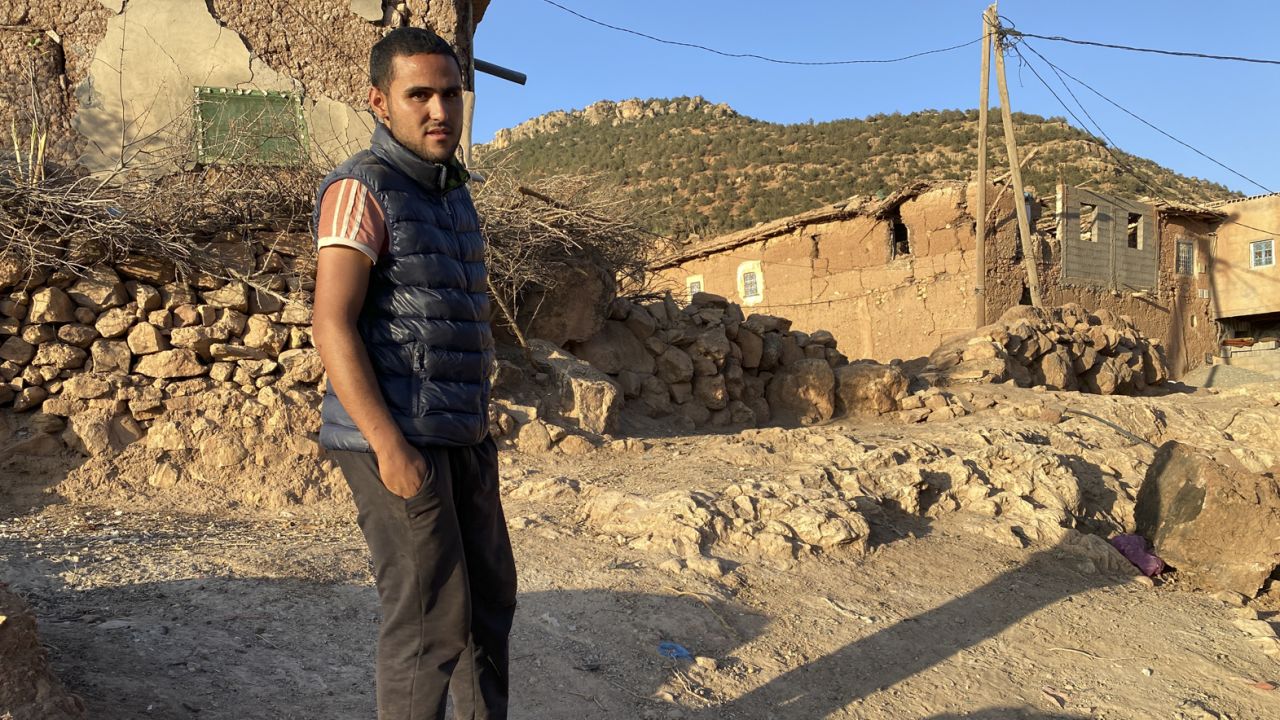 Another neighbor drove them to the blocked section of the road, where they got out and walked for about 20 minutes through the boulders and rubble covering the path.
Once through that section, they managed to hitch a ride to Asni, a town about two hours southwest of Marrakech where a field hospital opened on Monday morning.
Edabdelah could barely speak by the time they got there. The tiring journey had left him in agony. He was unable to move his arm, his face twisting with every move.
The doctors in Asni immobilized Edabdelah's shoulder and gave him strong painkillers. They told him he should feel better in about two weeks, then discharged him, focusing on the next in a long line of patients.
'She knew something bad was going to happen'

In pictures: Powerful earthquake kills thousands in Morocco
Fatema Acherhri was born in Tinzert, as was her husband. The two grew up together, got married and had Rajaa and Sanaa. Acherhri said her second labor was difficult and she didn't think she could have another child.
Acherhri said she and her husband have no idea what will happen next. The only thing left of their life in the village are their daughters' graves, dug just a few hundred meters from what used to be their home.
The winter is coming soon and, in these mountains, it can be harsh and cold.
Acherhri's voice cracks when she speaks about her girls, how pleased they were with their new school supplies when classes began last week. How they loved playing outside with their dad, while she was cooking couscous for them.
Sanaa, the little one, insisted on a trip to the hammam, the traditional Moroccan bathhouse, on Friday. Her father is a construction worker in Marrakech and he only comes home for the weekends.
"She wanted to be clean and pretty when he came," Acherhri told CNN, trying to hold back tears.
She said she had a strange premonition when Sanaa asked her to put henna on her feet last week.
"I told her she was too young for henna, but she said she wanted to be pretty and to go to Ourika," she said.
Ourika is a beauty spot in the Atlas Mountains, a lush oasis with a natural spring, beautiful waterfalls and tall green trees. Local people refer to the place as a heaven on earth.
"I think she knew something bad was going to happen, she knew she was going to paradise," she said.
CNN's Zeena Saifi, Mark Esplin and Sam Kiley and John Torigoe in Asni, Morocco and Mostafa Salem and Celine Alkhaldi in Abu Dhabi contributed reporting.