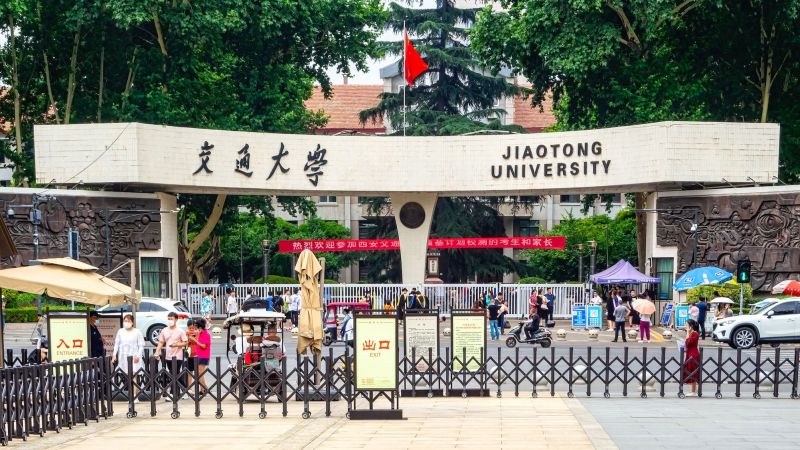 Editor's Note: Sign up for CNN's Meanwhile in China newsletter which explores what you need to know about the country's rise and how it impacts the world.
A top university in northwest China has scrapped English tests as a prerequisite for graduation, rekindling a heated debate about the role of the world's lingua franca in the country's education system after years of rising nationalist sentiment under leader Xi Jinping.
In a notice Wednesday, the Xi'an Jiaotong University in the capital city of Shaanxi province said students will no longer need to pass a nationwide standardized English test – nor any other English exams – to be able to graduate with bachelor's degrees.
The announcement caused a stir on social media, with many praising the decision and calling for more universities to do the same.
"Very good. I hope other universities will follow suit. It's ridiculous that Chinese people's academic degrees need to be validated by a foreign language (test)," said a comment with more than 24,000 likes on microblogging site Weibo, where a related hashtag attracted more than 350 million views Thursday.
Passing the College English Test, a national standardized exam first held in 1987, has been a graduation requirement at the majority of Chinese universities for decades – although the government has never made it an official policy.
The common practice underlined the importance Chinese universities placed on English – the world's predominant academic and scientific language – especially when the once-insular and impoverished country was opening up and eager to catch up with the developed world after the turbulence of the Mao Zedong era.
But in recent years, some universities have downgraded the importance of English, either by replacing the national College English Test with their own exams or – as in the case of the Xi'an Jiaotong University – dropping English qualifications altogether as a graduation criteria.
"English is important, but as China develops, English is no longer that important," said a Weibo post from a nationalist influencer with 6 million online followers after the university's announcement.
"It should be the turn for foreigners to learn Chinese," the influencer said.
The downgrade comes as China turns more nationalist and inward under Xi, who has called on the country to strengthen "cultural confidence" and fend off "Western influence."
In schools and universities, teachers have been forbidden from using Western textbooks or talking about "Western values" such as democracy, press freedom and judicial independence.
There has also been moves to downgrade English teaching in classrooms.
In Shanghai, China's most cosmopolitan city, authorities in 2021 banned elementary schools from holding final exams on the English language, citing the need to ease the academic burden on students.
Some lawmakers and government advisers have also proposed to remove English as a core subject in schools and from the country's university entrance exams.
In contrast, across the strait in Taiwan, the government has rolled out a plan for the island to be bilingual by 2030.
China made English a compulsory subject in primary and secondary schools in 2001, the same year the country joined the World Trade Organization.
At the time, the education ministry hailed the requirement as part of a national strategy to make Chinese education "face modernization, face the world and face the future".
For some liberal-leaning Chinese, the downgrade of English is symbolic of China's inward turn and a tightening of ideological control.
"We should have cultural confidence, but it's not the same as being culturally arrogant, short-sighted or closed-minded," a comment on Weibo said.
"We need English to understand the world. This is a fact and it cannot be covered up by the banner of nationalism," said another.
Others cheered the scrapping of English tests at universities from a practical perspective, arguing it was a waste of time and energy as graduates seldom use the language in their daily life or career after graduation – and when they do, artificial intelligence and machine translation can help out anyway.
But some disagreed, citing English's importance as the language for the world's leading academic journals, especially in science and technology.
"You don't have to link it [to graduation], but don't underplay the importance of English. These days, if you don't understand English, you'll still fall behind in the scientific and technological world," a Weibo user said.