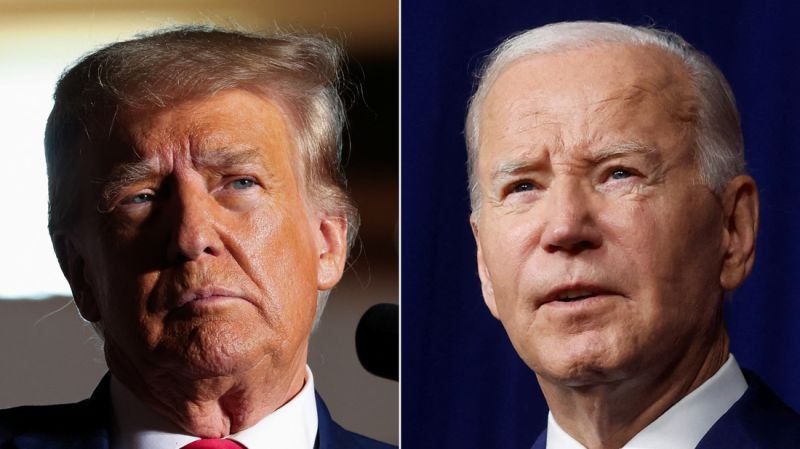 When United Auto Workers went on strike against General Motors four years ago, Joe Biden and Donald Trump took very different approaches.
Trump, the incumbent Republican president who'd clashed with unions over his labor policies, told reporters at the time he had a good relationship with autoworkers and he hoped the two sides would reach a deal quickly. Biden was one of several Democratic presidential candidates visiting striking workers, criticizing GM for failing to share rising profits with workers.
"We didn't bail out GM, UAW bailed out GM," Biden, wearing a red UAW shirt, told striking workers at a Kansas plant in September 2019 in reference to the 2009 auto bailouts. "You gave up more than anybody. That's why GM made it."
The UAW eventually endorsed Biden in April 2020. This time, the UAW endorsement is still Biden's to lose. But as he and Trump – the GOP front-runner in 2024 – make dueling visits to the heart of the UAW strike this week, they'll face different challenges in their new roles as incumbent and challenger.
While Biden has worked to manage the tensions between his administration's green energy policies, the automakers' bargaining position and the demands of the union, Trump has attempted to simplify the situation into a debate over who will protect workers from job losses. Both will offer a preview of their general election pitches to the working class, industrial union members who could help deliver victory in key battleground states like Michigan, Wisconsin and Pennsylvania, all of which narrowly backed Trump in 2016 and Biden in 2020.
The UAW launched its most recent strike at factories in Michigan, Missouri and Ohio owned by the big three American automakers: General Motors, Ford and Stellantis, which sells cars under the Jeep, Ram, Dodge and Chrysler brands. The union is seeking 40% wage hikes over four years, a four-day work week and increased benefits and job protections. The union expanded the strike to GM and Stellantis' 38 parts and distribution centers across 20 states Friday.
Trump has used the strike to signal that he's looking beyond the GOP primary, skipping the second Republican debate Wednesday and trying to create his own moment in the spotlight by meeting with members of various unions at a manufacturing plant near Detroit. His campaign has also launched a radio ad in Detroit and Toledo, Ohio, in which the narrator says that Trump calls autoworkers "great Americans" and "has always had their backs."
Days after Trump's trip was announced, and at the public urging of Michigan Democrats, Biden announced Friday he would visit Michigan to "stand in solidarity with the men and women of UAW" on Tuesday. Trump's camp has framed the announcement of Biden's trip as a response to his speech.
Democrats praised Biden's historic planned picket line visit, while Transportation Secretary Pete Buttigieg rejected the idea that Biden is attempting to draw a contrast with Trump.
"President Biden is doing what he has always done, which is to stand with American workers," Buttigieg said on CNN's "State of the Union" on Sunday. "These auto companies can thrive in a win-win deal that does what the president has called for, which is to say that record profits should lead to record pay and record benefits for the workers who are creating all that value."
From TPP to the EV transition

The presidential politics of the moment, however, are inescapable.
"On the Republican side, there's a huge opportunity. And on the Democratic side, there's a huge risk," said Saul Anuzis, a former Michigan GOP party chair and Republican National Committee committeeman.
Whereas Democrats need to figure out how to strike a balance among the automakers, union leadership and rank-and-file union members, Republicans can appeal to workers without embracing companies' EV policies or supporting union leaders, he said.
"There's a lot more leeway, on the Republican side, of what they have to do, can't do, or should do to be supportive," Anuzis added.
The path to the White House likely runs through states like Michigan, where appealing to voters with union ties could make the difference in a close race. Union households have traditionally favored Democrats, and 2016 was no different: Hillary Clinton won 51% of union households compared to 42% that supported Trump, according to CNN exit polls. But that margin was smaller than President Barack Obama's 18-point union household advantage over Mitt Romney in 2012.
Trump portrayed himself as a voice for workers who felt forgotten by Washington elites and he railed against trade deals, including the Trans-Pacific Partnership negotiated by the Obama administration. Clinton had called the proposed agreement "the gold standard" in trade deals while serving as secretary of state, but opposed the deal while running for president. Trump went on to win Michigan, Wisconsin, Pennsylvania and Ohio, all union strongholds that went for Obama in 2012.
Biden launched his 2020 campaign with that dynamic in mind.
"I make no apologies, I am a union man," he said at a Pittsburgh rally in April 2019. Biden was able to best Clinton's union support, recapturing votes won by third-party candidates and beating Trump among union households 56% to 40% nationally. He flipped back Michigan, Wisconsin and Pennsylvania.
Whoever wins the Republican nomination will need to match Trump's past performance with union voters in a general election by striking a delicate balance.
The GOP candidates have been seeking to show their support for auto workers, and unionized workers more broadly, while maintaining an aggressive stance toward union leaders.
"There's a history of conservative GOP candidates working the plant gates, and that's essentially what Trump is trying to do here," said John Sellek, a Republican public relations specialist who worked for former Michigan Gov. John Engler and served as state director for Romney's 2012 campaign. "If there's another nominee, especially if they're a complete union basher, how that'll work for them in the general is really, really unclear."
Most of the Republican candidates have stuck to traditional GOP messaging when referring to the strikes, criticizing UAW President Shawn Fain and knocking the Biden administration over high inflation and its proposals to combat climate change.
At the center of their strategies has been an attempt to tap into autoworker anxieties over the administration's efforts to encourage electric vehicle manufacturing. Republicans have glossed over the UAW's push to unionize workers at new electric vehicle factories and ignored the union's calls for higher pay, a shorter work week and better benefits – unless to paint them as unreasonable.
"Biden's trip to 'protest' in Michigan is a smokescreen to deflect reality & the UAW strike is just a symptom of the deeper problem: a trifecta of rising prices + rising interest rates + stagnant wages," biotech entrepreneur Vivek Ramaswamy wrote on X.
South Carolina Sen. Tim Scott has been the most vocal critic of UAW leadership. In the days following the strike, Scott said the union's call for a four-day work week and higher pay was a "disconnect from work" and suggested striking autoworkers should be fired the same way President Ronald Reagan fired striking federal workers. The UAW filed a complaint with the National Labor Relations Board, arguing Scott's "you strike, you're fired" comment threatened the union's legally protected right to strike.
"They want to threaten me and shut me up. They don't scare me," Scott said in a statement Friday in response to the complaint. "I will truly fight for American workers and jobs, promote the dignity of work, and end the Biden retreat from the values that make our nation exceptional."
Tensions over electric vehicles
In a recent "Meet the Press" interview, Trump called on Fain to endorse him while criticizing the union leader almost in the same breath.
"The autoworkers are being sold down the river by their leadership, and their leadership should endorse Trump," the former president said. He added that Fain may not have a union soon. "Those jobs are all going to be gone, because all of those electric cars are going to be made in China."
Fain, who has said his union's endorsement must be earned through "actions, not words," has called Trump a member of the "billionaire class" the union is fighting against and said a second Trump presidency would be a "disaster."
But Republicans are still seeking to harness tensions over the EV transition and fears over helping China.
"The accusation that the Biden administration's support for this transition to clean energy is going to cause jobs to move to China is simply false," said Madeline Janis, co-executive director of Jobs to Move America, a progressive advocacy group focused on workers' issues. "The other question has to do with, 'Is this transition going to benefit the American people in a broad way?' And I think the answer isn't clear."
Electric vehicle engines require fewer workers to put together, and automakers are shifting much of the work to build electric vehicles to nonunion factories in the South, where labor laws are weaker and employees can be paid less.
UAW leaders say they aren't opposed to building more electric vehicles, but the transition must happen in a way that protects workers' jobs. The Inflation Reduction Act and the 2021 infrastructure law provide funding to encourage car manufacturers to build more electric vehicles. Fain has urged the administration do more to make sure electric vehicle manufacturing jobs aren't a "race to the bottom," and stated that the handling of the EV transition will factor into when, or if, they decide to endorse.
Democrats hope that Biden's return to the UAW picket line will lead to history repeating itself.
"President Biden showing up to the picket line on Tuesday is a historic, historic event," New York Democratic Rep. Alexandria Ocasio-Cortez said during an appearance on CBS' "Face the Nation" on Sunday.
"[The UAW endorsement] should be earned, it needs to be earned and I believe that President Biden is working towards that, especially when he lands on Michigan on Tuesday."