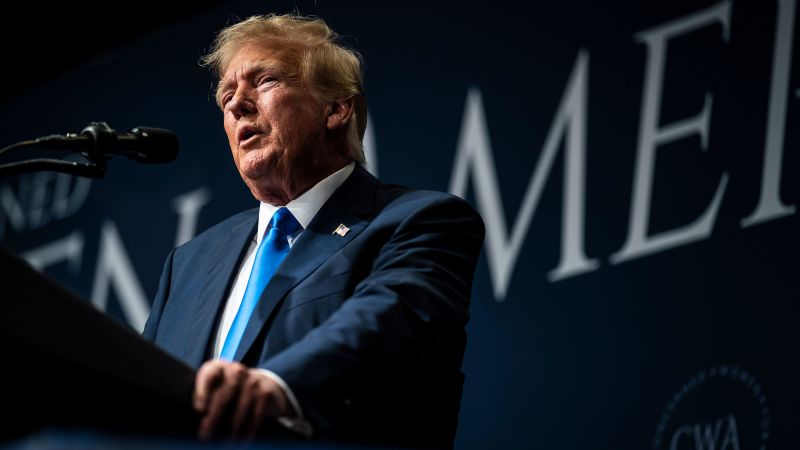 Even as he faces increasing legal jeopardy, former President Donald Trump is reverting to a familiar pattern of taunting other candidates – a tactic he used in 2016 when he was feeling comfortable with his lead in the Republican primary.
His latest target has been former South Carolina Gov. Nikki Haley, whom he recently derisively nicknamed "Birdbrain." On Sunday, Haley tweeted a photo of a birdcage and birdseed she said she found outside her hotel room after campaigning in Iowa, with a note that read "From: Trump Campaign."
When the Trump campaign was asked whether it was responsible for the delivery, a spokesperson responded with the brain and bird emojis and did not confirm or deny they were the sender.
These campaign antics come as the former president and his business are facing an existential threat in a civil fraud case in New York set to begin Monday, which Trump is expected to attend and his team is already fundraising off of. He's also facing 91 criminal charges across four separate cases, with trials expected to collide with next year's primary calendar. But without any obvious threat to his dominance of the GOP field, Trump is embracing brash tactics such as belittling his opponents and fundraising off of his possible court appearances.
Haley has claimed that Trump's increasing targeting of her is a sign she has momentum. And polling has shown her gaining ground in the primary thanks, in part, to her two debate performances. But she and the rest of the field have not substantially closed Trump's polling lead. In the latest update to the CNN Poll of Polls on the race, from before the second GOP debate, Trump holds an average of 58% support, Florida Gov. Ron DeSantis runs a distant second with an average of 15% support, followed by Haley at 6%.
Trump is having to face the fact that court dates are already part of his campaign schedule – and will increasingly be heading into 2024. Last week, a New York judge dealt Trump a major blow in finding him liable for fraud and ordering that business certificates for some Trump entities be canceled. That hasn't stopped the former president from dinging his rivals. While campaigning in Iowa on Sunday, the former president referred to DeSantis as "DeSanctus" while knocking the Florida governor on his position on ethanol.
"I call him somebody that cannot be trusted," Trump said during a campaign stop in Ottumwa. "It's very, very sad actually. He'll stab you in the back just like he stabbed MAGA in the back."
Trump's taunts harken back to the 2016 campaign cycle, when he felt so comfortable in his lead that he began egging on other candidates, such as when he sent Sen. Marco Rubio's campaign a special delivery of "Trump Ice Natural Spring Water." The ding was a reference to when the Florida Republican gave the 2013 GOP response to the State of the Union address and, mid-speech, leaned off camera to take a sip of water.
"It's just Trump goading people," said Republican media consultant Scott Howell, who is unaligned in this presidential race.
"Think about it. Trump wants to be in her head," he said, alluding to Haley. "He wants to be in everybody's head. He wants to be in (Vivek) Ramaswamy's head. If he becomes an issue he wants to get in Tim Scott's head. This goes back so long ago and it's just Trump being Trump."
What's different this year is the bevy of indictments and serious legal woes threatening Trump. But amid indictments and looming court dates that don't seem to have hurt his standing among his base, the former president been able to take potshots at any candidate gaining any iota of support.
"She's the flavor of the day," Howell said of Trump's attacks on Haley. "And I think it's Trump's M.O. to attempt to goad and taunt other candidates. He did that in 2015, 2016 – 'Little Hands Rubio,' all those types of things."
At the time, Trump repeatedly mocked Rubio as "Little Marco," making the Florida senator's youth a subject of ridicule.
Howell also recalled Trump's nicknames for Democrats who were in the campaign spotlight at various points – his nickname for President Joe Biden, for example, was "Sleepy Joe," while he called Massachusetts Sen. Elizabeth Warren "Pocahontas."
The Trump campaign on Sunday sent out a fundraising pitch citing "reports" that he would be attending the civil trial against him on Monday. Trump hasn't yet confirmed that he's attending, but law enforcement and court employees have been making security preparations for his potential appearance at the courthouse in lower Manhattan on Monday and possibly Tuesday.
"This will be the FIRST TRIAL in the Democrats' string of witch hunts designed to destroy our 2024 presidential campaign," the fundraising email read in alarmist red text. "The Left is hoping that if they can hurt me financially, that I will shut down my campaign and forever surrender our country to the radical Left Democrats and the Deep State."
Campaign finance reports show this approach is paying off. In the first six months of 2023, Trump's joint fundraising committee took in more than $53 million. But much of that money has gone to the battle he's waging in the courts rather than on the traditional campaign trail. Those filings also showed that Trump's leadership political action committee spent $21 million (or 70% of its disbursements for the first half of the year) on legal bills related to the former president and people associated with him.
Ebony Davis contributed to this report.