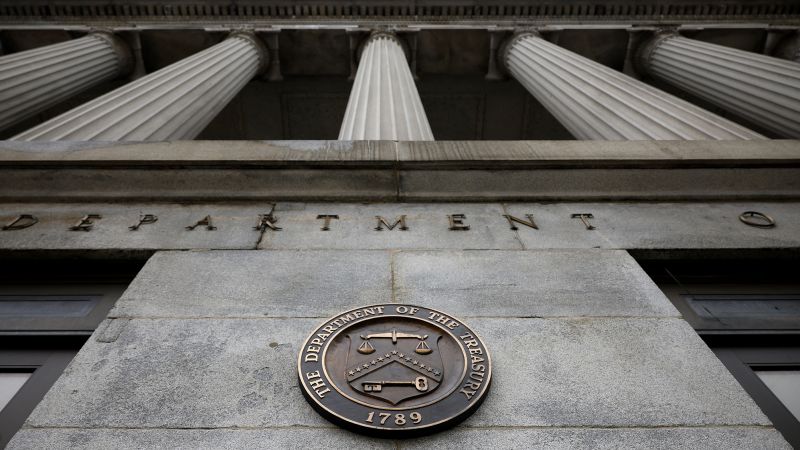 The US Treasury Department on Wednesday imposed sanctions on "10 key Hamas terrorist group members, operatives, and financial facilitators" in an effort to stem the revenue flow for the terrorist group.
In addition, Deputy Treasury Secretary Wally Adeyemo announced that the administration aims to "build a multinational coalition to go after terrorist financing," and senior Treasury officials will travel to the region to continue to coordinate.
The announcement of the new sanctions comes as President Joe Biden is in Israel to show his support for the country in the wake of the Hamas attacks last weekend.
The new sanctions target "six individuals associated with Hamas's secret investment portfolio, two senior Hamas officials, and a Gaza-based virtual currency exchange and its operator," according to the Treasury Department.
"We will continue to take all steps necessary to deny Hamas terrorists the ability to raise and use funds to carry out atrocities and terrorize the people of Israel. That includes by imposing sanctions and coordinating with allies and partners to track, freeze, and seize any Hamas-related assets in their jurisdictions," Treasury Secretary Janet Yellen said of the sanctions in a news release.
"What we're doing today is we're cutting them off from access to their money," a senior Treasury official explained. "War costs money, and fundamentally by making sure that these networks and financiers don't have the ability to give that money to Hamas, it will mean that they have fewer resources to pay their fighters, to buy the weapons, to support their destabilizing activity."
"As of today, they will be cut off from those assets into the US financial system," they said.
Wednesday's sanctions target two senior Hamas operatives: Muhammad Ahmad 'Abd Al-Dayim Nasrallah, who is based in Qatar, and Ayman Nofal, who was reportedly killed in an airstrike in Gaza Tuesday.
They also target six people who the Treasury Department says are "associated with Hamas's secret investment portfolio."
Of the six, one – Musa Muhammad Salim Dudin – is based in the West Bank. Abdelbasit Hamza Elhassan Mohamed Khair is based in Sudan. Three of those targeted – Amer Kamal Sharif Alshawa, Ahmed Sadu Jahleb, and Walid Mohammed Mustafa Jadallah – are based in Turkey and Aiman Ahmad Al-Duwaik is based in Algeria.
The sanctions also hit Buy Cash Money and Money Transfer Company, "a Gaza-based business that provides money transfer and virtual currency exchange services, including Bitcoin."
According to the Treasury Department, Buy Cash was among the virtual currency wallets seized in June 2021 by Israel's National Bureau for Counter Terrorist Financing "in connection to a Hamas fundraising campaign, some of which were linked to the Izz al-Din Qassam Brigades."
"In addition to involvement in Hamas fundraising, Buy Cash has also been used to transfers funds by affiliates in other terrorist groups," the Treasury Department said.