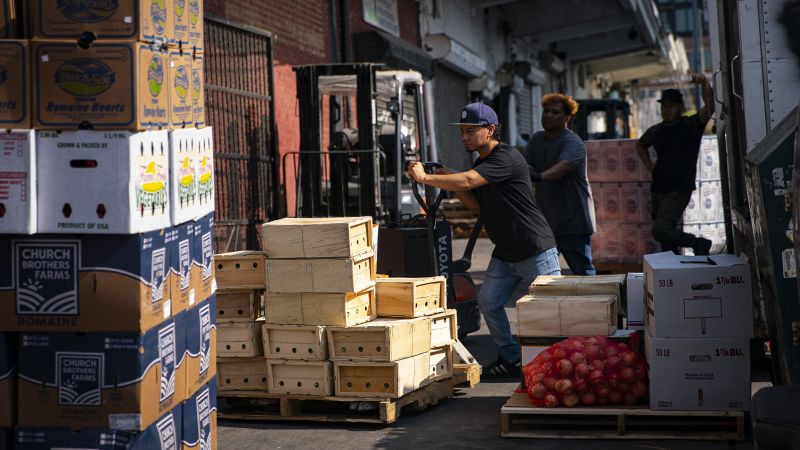 Wholesale price increases of US goods and services jumped higher for a third consecutive month, influenced by still-high energy prices, according to data released Wednesday by the Bureau of Labor Statistics.
The Producer Price Index, which measures the average price changes that businesses pay to suppliers, rose 2.2% for the 12 months ended in September. On a monthly basis, prices rose 0.5%, a slight cooldown from August's 0.7% increase. September's overall increase was driven by a 0.9% gain in goods prices due to higher energy prices and food prices, BLS data shows.
Economists had projected an annual increase of 1.6% and a monthly uptick of 0.3%, according to Refinitiv consensus estimates.
Gas prices hit new yearly highs in September, as oil prices pushed past $92 a barrel amid supply cuts and catastrophic flooding in Libya. However, in October, oil prices have swung in the opposite direction, a welcome development for consumers and the Federal Reserve alike.
When stripping out the more volatile components of food and energy, the core PPI rose 2.7% for the month and was up 0.3% for the year. While higher than the estimated 2.5% annual increase in August, the year-over-year increase in core PPI remains near its 2023 lows and well below the record 9.7% high hit in March 2022.
Notably, without the influence of energy and food, final demand goods prices grew only 0.1% from August to September, BLS data shows.
Still, September's PPI report serves as a reminder that inflation's path downward will be a bumpy one, as Federal Reserve Chair Jerome Powell has warned during the central bank's rate-hiking campaign to cool inflation.
Chris Rupkey, chief economist at FwdBonds said Wednesday: "The Fed has not finished the job and stamped inflation out completely yet, and if anything, policymakers have their work cut out for them as much as the inflation we see in producer prices is coming from food and energy prices that monetary policy has less effect on."
PPI is a closely watched inflation gauge since it captures average price shifts before they reach consumers and serves as a potential signal for the prices consumers ultimately end up paying.
This story is developing and will be updated.