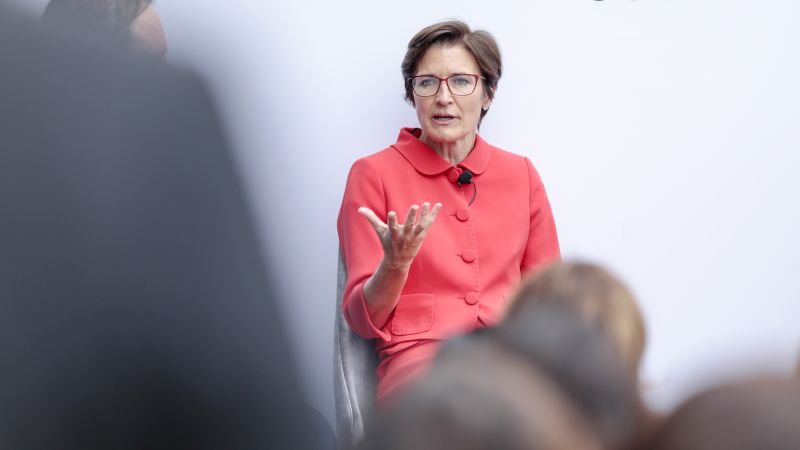 When Jane Fraser became CEO of Citigroup nearly two years ago, in the middle of the pandemic, she established the kind of flexible hybrid work culture that's mostly unheard of among elite Wall Street bankers.
Although Fraser sees no need to return to the old ways, Citi's experiment has shown not all workers can hack it working remotely. The less productive ones, she said, are being called back into the office for coaching.
"We do measure productivity very carefully," she said Tuesday during a panel hosted by Bloomberg News during the World Economic Forum in Davos, Switzerland.
"Apprenticeship is really important," she added, recalling her own "eccentric and wonderful" mentors from her time as a young banker.
"We do want people collaborating, and they do collaborate better together," Fraser said. "But at the same time we don't have to go back to the '80s model that sort of epitomized Wall Street, either."
Fraser's comments do not signal any formal change to the bank's hybrid work policy, a Citi spokesperson said.
Fraser became the first woman to run a major Wall Street bank when she took the Citi CEO role in March 2021. Roughly a year into the pandemic, signs of burnout were everywhere with deal volumes soaring.
As part of her mission to cast Citi as the bank "with a soul," Fraser saw an opportunity to embrace rather than resist a hybrid work schedule that allowed staff flexibility. "The blurring of lines between home and work and the relentlessness of the pandemic workday have taken a toll on our well-being. It's simply not sustainable," she wrote in a memo to Citi's more than 200,000 global staff.
Most roles at Citi would become hybrid, with three days in the office and up to two at home, she said in the memo. She also implemented "Zoom-free Fridays" and urged staff to avoid scheduling calls outside traditional work hours.
That decision was both a response to the human tragedy of the pandemic and a calculated strategic decision to give the bank an edge in the cutthroat war for talent on Wall Street. Ultimately, she said, that bet has paid off, helping the bank "attract, retain and get the most out of our talent."
Now, Fraser says, going forward it's important for Citi to strike a balance between in-person collaboration and giving workers the flexibility they need.
"I think we're in for a world of pretty tight labor supply," she said. "We're not seeing people coming back who had left the workforce in anything like the numbers we expected … We're going to have to keep listening to our people to get that balance right."