A "ring of fire" annular solar eclipse will put on a show from Oregon to Texas this Saturday – as long as clouds don't spoil the fun.
The moon doesn't cover 100% of the sun in an annular solar eclipse like in a total solar eclipse, but instead allows some light to peek through and encircle the moon in a so-called "ring of fire," also known as annularity.
Only a narrow corridor of the western and central US will be able to experience the ring, when the moon will block out 90% of the sun for a few minutes on Saturday morning.
The moon will obscure the sun to a lesser extent for the rest of the continental United States, creating a partial eclipse, so weather conditions will be key in determining whether you'll be able to see it with protective eye wear where you live.
Here are the best and worst places to see the eclipse unfold based on weather conditions:
'Ring of fire' forecast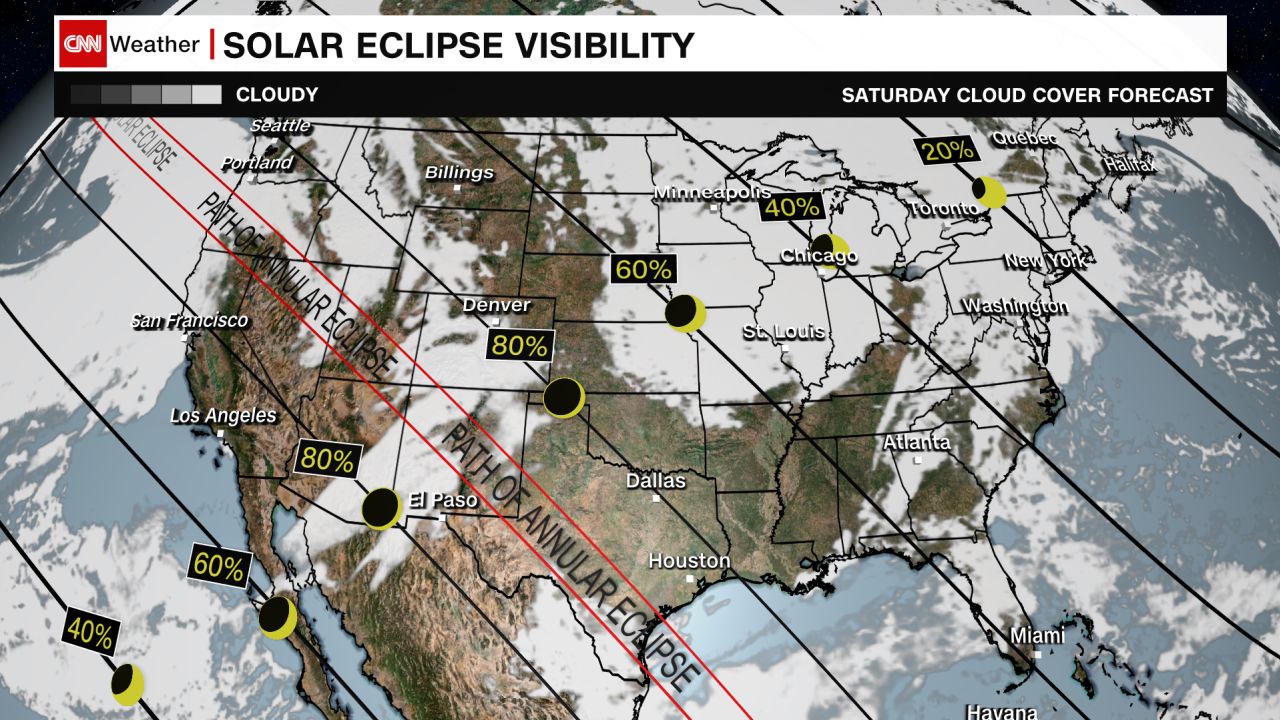 The best viewing conditions are likely across portions of Texas, where sunshine will be widespread.
In San Antonio, the most populous city able to witness annularity, the eclipse will peak starting at 11:52 a.m. CDT, arrive at its maximum coverage at 11:54 a.m. and move past its peak by 11:56 a.m. The "ring of fire" will be visible during these few minutes.
A few clouds may float by in the southern portion of the state but won't be widespread enough to obscure the view completely.
Oregon won't be so lucky; abundant clouds and some rain could steal the show. A storm will develop off the Pacific Northwest coast late Friday night and while it will stay offshore through Saturday, it will be close enough to disrupt the show.
Any rain is most likely to fall in far western Oregon and western Washington, but clouds will spread much farther inland.
Clouds may also ruin the view in parts of Nevada and Utah, but there could be pockets in both states where they part just in time.
High-level clouds are possible across New Mexico but may end up being thin enough in spots to not completely diminish visibility.
Partial eclipse forecast

The rest of the central and eastern US may still be able to see a partial eclipse block anywhere from 20% to 80% of the sun.
That is, if clouds weren't such an issue. Clouds will block views across most of the Midwest and portions of the East as storm systems impact each region. Some parts of the South may luck out, but with such widespread cloud cover, there will be a lot of disappointed eclipse watchers.
Anyone who misses out on Saturday's annular solar eclipse may want to make plans to get into the path of the first total solar eclipse since 2017 on April 8, 2024.