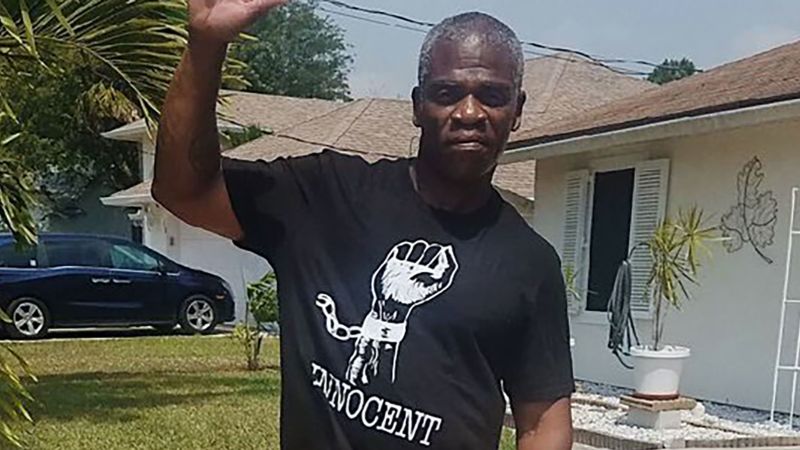 Two months after the state of Florida formally apologized to Leonard Cure for the 16 years he lost following a wrongful conviction for armed robbery, authorities say he was fatally shot Monday by a sheriff's deputy during a traffic stop just across the state line in Georgia.
"He and his family deserved better," the Innocence Project of Florida said in a statement. "Lenny's life mattered."
Cure's quest to rebuild his life after being wrongfully convicted in 2003 ended tragically on the shoulder of Interstate 95 in South Georgia.
He had been exonerated and released from prison in April 2020, after serving part of a life sentence for armed robbery in Broward County, Florida, court documents said.
At 53, Cure had reconnected with his family, gotten a steady security job and was quietly starting a new life in an Atlanta suburb, where he was using the compensation from his wrongful conviction and imprisonment to buy his first home, according to the Innocence Project.
"The Leonard we knew was a smart, funny and kind person," Broward State Attorney Harold F. Pryor said of the man who was the first person exonerated by the office's conviction review unit.
"After he was freed and exonerated by our office, he visited prosecutors at our office and participated in training to help our staff do their jobs in the fairest and most thorough way possible."
Civil rights attorney Ben Crump, along with members of Cure's family, plan a news conference Wednesday.
Reason for traffic stop is unclear

A Camden County deputy stopped Cure on Interstate 95 around 7:30 a.m. Monday, according to the Georgia Bureau of Investigations. Why Cure was pulled over or what led to the traffic stop is unclear.
Cure stepped out of the vehicle at the deputy's request, the GBI said, adding he "complied with the officer's commands until learning that he was under arrest."
"After not complying with the deputy's requests, the deputy tased Cure," the GBI said. "Cure assaulted the deputy. The deputy used the Taser for a second time and an ASP baton; however, Cure still did not comply. The deputy pulled out his gun and shot Cure."
Cure was treated by EMTs but later died, according to GBI.
The GBI said it will conduct an independent investigation and turn its findings over to the Brunswick Judicial Circuit District Attorney's Office for review.
Roughly $50K for each year taken from his life

Known to friends as Lenny, Cure was returning home to Fairburn, Georgia, after his visiting his mother when the the deputy stopped him, the Florida Innocence Project, which represented Cure, said in a statement.
"Sadly his life was cut tragically short," the project's executive director, Seth Miller, said.
in 2019, when the Broward State Attorney's Office launched a conviction review unit, one of the first petitions it received was from Cure, who had previously lost four appeals for post-conviction relief, according to Broward County court records.
The Florida Innocence Project said its investigation found that an ATM receipt showed Cure was miles away at the time of the robbery he was convicted of committing.
The armed robbery took place in Dania Beach on November 10, 2003, when a man with a revolver forced his way into a Walgreens store in the early morning hours, according to the Florida Innocence Project. The suspect left the store with $1,700 in cash. The descriptions of the suspect provided by two store employees did not match.
The Florida Innocence Project said its investigation also concluded "a photo array shown to one of the victims contained multiple photos of Lenny and was therefore an unreliable, suggestive identification procedure."
In 2004, a mistrial was declared after the jury was deadlocked. Weeks later, Cure was tried again and convicted. He was sentenced to life in prison for armed robbery with a firearm and assault with a firearm.
In April 2020, the conviction review unit modified Cure's sentence to 16 years and he was released on time served, according to the Innocence Project.
Cure in August received $817,000 in compensation for his conviction and imprisonment, or roughly $50,000 for each year taken from his life.
Pryor, the Broward State Attorney, recalled this week that Cure "would frequently call to check in on Assistant State Attorney Arielle Demby Berger, the head of the Conviction Review Unit, and offer our team encouragement to continue to do the important work of justice."