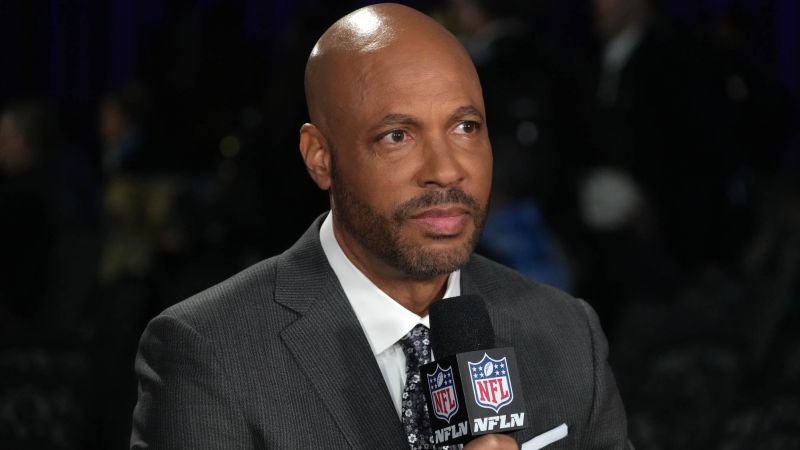 Former National Football League reporter Jim Trotter filed a discrimination lawsuit against the NFL and NFL Media Tuesday, alleging that he was let go by the football league because he publicly challenged Commissioner Roger Goodell and other executives on the NFL's "record of race discrimination and lack of diversity."
Trotter worked as a sports reporter for the NFL from 2018 until March. In a March post on Twitter (now called X), Trotter said he was informed that his contract had not been renewed.
According to the lawsuit, earlier this year, Trotter, a Black man, was asked by the NFL's vice President of on-Air talent management, Sandra Nunez, to confirm whether Trotter was "in alignment" with the NFL after he publicly challenged Goodell on national TV about NFL Media's lack of Black employees in senior management. After Trotter allegedly said he was not "in alignment" with the league's alleged lack of diversity and inclusion, he was told the NFL would not renew his contract, according to the lawsuit.
"The NFL has claimed it wants to be held accountable regarding diversity, equity, and inclusion. I tried to do so, and it cost me my job," Trotter said in a statement. "I'm filing this lawsuit because I can't complain about things that are wrong if I'm unwilling to fight for what is right."
In a statement to CNN, the NFL disputed Trotter's claim that he was let go due to racial discrimination, instead attributing his firing to a company-wide decision to lay off employees.
"Mr. Trotter's departure from NFL Media was one of many difficult decisions — similar to decisions recently made by many other media organizations — to address a challenging economy and a changing media environment," an NFL spokesperson said. " Jim was one of many employees who were unfortunately affected by these business decisions."
Team coaches named in the lawsuit

Trotter's lawsuit also alleges that his experience with discrimination was not limited to the circumstances surrounding his firing, however. According to the suit, the sports reporter witnessed hostile comments by NFL team owners on multiple occasions.
In one example, when discussing player protests against racial injustice, Trotter alleges that Buffalo Bills owner Terry Pegula said "If the Black players don't like it here, they should go back to Africa and see how bad it is."
In a statement, Pegula vehemently denied Trotter's allegation. "The statement attributed to me in Mr. Trotter's complaint is absolutely false. I am horrified that anyone would connect me to an allegation of this kind. Racism has no place in our society and I am personally disgusted that my name is associated with this complaint," Pegula said.
In another example, the suit alleges that Dallas Cowboys owner Jerry Jones responded to a question posed by Trotter about the lack of Black leaders in the NFL by saying, "If Blacks feel some kind of way, they should buy their own team and hire who they want to hire."
In a statement to CNN, Jones said the details of the conversation in the claim were inaccurate.
"Diversity and inclusion are extremely important to me personally and to the NFL," Jones said. "The representation made by Jim Trotter of a conversation that occurred over three years ago with myself and our VP of Player Personnel Will McClay is simply not accurate."
The NFL said it disputes the allegations laid out in Trotter's suit.
"We share Jim Trotter's passion for quality journalism created in and supported by a diverse and inclusive environment. We take his concerns seriously, but strongly dispute his specific allegations, particularly those made against his dedicated colleagues at NFL Media," a league spokesperson said.
Controversy surrounding the NFL

The NFL has faced allegations of racism in the past. In 2019, Colin Kaepernick settled a complaint with the league after he alleged that teams colluded to keep him from playing. The claim came after Kaepernick drew controversy for kneeling during the National Anthem to protest racial injustices in the US, and subsequently could not find work as an NFL quarterback despite possessing an impressive record.
The league has come under fire for its lack of diversity in its upper echelons. Out of 32 teams, there are no black majority owners and only eight black general managers.
In recent years, the NFL has attempted to confront allegations of racism. In 2022, 58% of full-time employees hired by the NFL were people of color, according to the league. NFL Media's three most recent senior hires have also been people of color. According to the league, seven of NFL Media's nine most recent on-air hires are Black.
Trotter's suit argues that the NFL and team owners have "repeatedly shown they are unable to monitor and police themselves."
The suit seeks to impose a court-ordered monitor to review the NFL's policies and implement "necessary changes" concerning hiring and advancing black employees. Trotter's claim also seeks a full-scale investigation into discrimination within the NFL, including NFL team owners.
"I hope this lawsuit leads to real change across the league and in the newsroom," Trotter said in a statement. "It is on the backs of a majority black player population that owners have made billions and those players deserve to have someone who shares their cultural and life experiences at the table when decisions are being made about how they are being covered."